Yeast is a living microscopic single-cell organism that, as it grows, converts its food (through a process known as fermentation) into alcohol and carbon dioxide. This trait is what endears yeast to winemakers, brewmasters and bread bakers. In the making of wine and beer, the yeast's manufacture of alcohol is desired and necessary for the final product, and carbon dioxide is what makes beer and champagne effervescent. The art of breadmaking needs the carbon dioxide produced by yeast in order for certain doughs to rise. To multiply and grow, all yeast needs is the right environment, which includes moisture, food (in the form of sugar or starch) and a warm, nurturing temperature (70 to 85 degrees F is best). Wild yeast spores are constantly floating in the air and landing on uncovered foods and liquids. No one's sure when these wild spores first interacted with foods, but it's known that the Egyptians used yeast as a leavening agent more than 5,000 years ago. Wine and other fermented beverages were made for millennia before that. Today scientists have been able to isolate and identify the various yeasts that are best for winemaking, beermaking and baking. The two types commercially available are baker's yeast and brewer's yeast. Baker's yeast, as the name implies, is used as a leavener. It's catagorized into three basic types — active dry yeast, compressed fresh yeast and yeast starters. Active dry yeast is in the form of tiny, dehydrated granules. The yeast cells are alive but dormant because of the lack of moisture. When mixed with a warm liquid (105° to 115°F), the cells once again become active. Active dry yeast is available in two forms, regular and quick-rising, of which the latter takes about half as long to leaven bread. They may be used interchangeably (with adjustments in rising time) and both are available in ¼-ounce envelopes. Regular active dry yeast may also be purchased in 4-ounce jars or in bulk in some natural food stores. It should be stored in a cool, dry place, but can also be refrigerated or frozen. It should always be at room temperature before being dissolved in liquid. Properly stored, it's reliable when used by the expiration date, which should be stamped on the envelope or jar label. One package of dry yeast is equal to 1 scant tablespoon dry yeast or 1 cake of compressed fresh yeast. Compressed fresh yeast, which comes in tiny (0.06-ounce), square cakes, is moist and extremely perishable. It must be refrigerated and used within a week or two, or by the date indicated on the package. It can be frozen, but should be defrosted at room temperature and used immediately. One cake of fresh yeast can be substituted for one envelope of dry yeast. The use of compressed fresh yeast has been primarily replaced by the more convenient active dry yeast. All baker's yeast should be given a test called proofing to make sure it's still alive. To proof yeast, dissolve it in warm water and add a pinch of sugar. Set the mixture aside in a warm place for 5 to 10 minutes. If it begins to swell and foam, the yeast is alive, active and capable of leavening bread. Brewer's yeasts are special non-leavening yeasts used in beermaking. Because it's a rich source of B vitamins, brewer's yeast is also used as a food supplement. It's available in natural food stores. Brewer's yeasts are also marketed in specialty beermaking equipment shops, with different strains used for different beers.

From The Food Lover's Companion, Fourth edition by Sharon Tyler Herbst and Ron Herbst. Copyright © 2007, 2001, 1995, 1990 by Barron's Educational Series, Inc.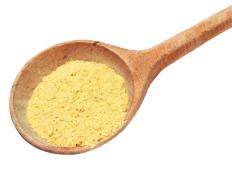 You've seen it in the health food store, but what, exactly, is nutritional yeast, and how do you use it?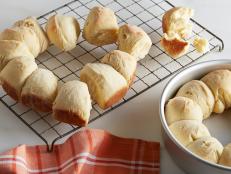 Food Network's Yeast Rolls are a comforting side dish for your Thanksgiving feast.