Get all the latest updates on sweepstakes and contests from Food Network, our sister sites and our sponsors.
Get the Recipe
Crispy Chicken Parm Balls
Learn how to make these crispy balls that taste just like Chicken Parmesan.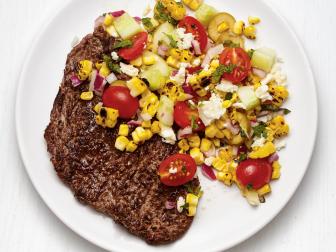 Get dinner on the table in a half-hour or less with these quick and easy recipes.
Wayfair Love Your Home Sweepstakes
Now through June 4th at 5pm ET, enter once daily for your chance to win a $2,500 Wayfair Gift Card. Plus, one lucky entrant will be chosen each week to win a $250 Wayfair Gift Card.
DIY's America's Most Desperate Landscape
Now through June 6th at 5pm ET, enter daily for your chance to win $50,000 to make your yard the best on the block! Then, vote and tell us how you'd fix your desperate landscape.
Find More Texas Sweepstakes
Now through July 13th at 5pm ET you can enter three times per day, on HGTV.com, FoodNetwork.com, and TravelChannel.com, for your chance to win one of three Texas vacation packages, valued at over $5,000!
HGTV Dream Home Giveaway 2018
We're sorry, this sweepstakes is now over! Thanks to all that entered for a chance to win HGTV® Dream Home 2018, a modern coastal retreat located in Gig Harbor, WA, plus a $250K cash prize provided by national mortgage lender Quicken Loans®.
Food Network's Fantasy Kitchen Sweepstakes
Karen C. – Tucson, AZ
HGTV's Ultimate Outdoor Awards
Chad O. – Gardiner, ME
Travel Channel's The Trip 2018 Sweepstakes
Linda T. – Brooklyn, NY
Lumber Liquidators Dream Floor Giveaway
Kathy B. – Melbourne, FL
Live for Ta-Da! Sweepstakes Presented by Sherwin Williams
Brenda S. - Salem, OR
Amy A. - Colorado Springs, CO
Tim V. - Scottsburg, VA
Sara J. - Webb City, MO
Kelly S. - Knoxville, TN
Sherri L. - Mims, FL
Elizabeth H. - Asheville, NC
Travel Channel's Ultimate Seattle Trip Sweepstakes
Donna M. - Arnold, MO
Travel Channel's Winter Escape Sweepstakes
Michelle H. - Brainerd, MN
Dream Away with $20K Sweepstakes
Karin A. – Mineral Bluff, GA
Wayfair's Holiday Dreamin' Sweepstakes
Grand Prize Winner:
Gerard M. - Newark, DE
Weekly Winners:
Robert M. - Medford, OR
David F. - Worthington, OH
Kaitlin W. - Houston, TX
Charles D. - Santa Maria, CA
HGTV Urban Oasis
Magne J. - Beaverton, Oregon
GAC's Adventure Sweepstakes
Nicholas A. – Mobile, Alabama
Your Space Your Way $10K Sweepstakes
Grand Prize Winner:
Joyce I. - Miramar, FL
Weekly Winners:
Robyn C. - North Lauderdale, FL
Jack Y. - Mercersburg, PA
Jerry H. - Jefferson, GA
Lawrence M. - Rathdrum, ID
Theresa B. - Alpha, NJ
Anne K. - Meadville, PA
Marisol D. - Ann Arbor, MI
Marie M. - Hanover Township, PA
Travel Channel Palm Springs Giveaway
R. Polhill - Cortlandt Manor, NY
Israeli Adventure Sweepstakes
D. Swanson - Castro Valley, CA
Chopped at Home Challenge Presented by Del Monte
Tiffani S. - Phoenix, AZ
Travel Channel's Gatlinburg Getaway Sweepstakes
Franklin H. - Graham, NC