Get all the latest updates on sweepstakes and contests from Food Network, our sister sites and our sponsors.
Get the Recipe
No-Churn Watermelon Ice Cream Slices
Want a cool, creamy summer treat that's sure to make a splash?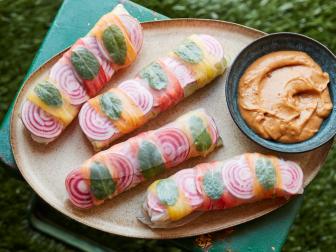 Get inspired with our best appetizers for warmer weather like summer rolls, crab dip, salsa, nachos and more.
HGTV Smart Home 2019
Now through June 14 at 5pm ET, enter twice daily for your chance to win HGTV® Smart Home 2019, plus a $100K cash prize provided by LendingTree and a 2020 Mercedes-Benz GLE.
Grand Prize Winner:
Julie W. - Washington, IN
Weekly Prize Winners:
Diane F. - Dayville, CT
Neomie D. - Massena, NY
Linda W. - Rio Rancho, NM
Janet K. - Sequim, WA
Daily Prize Winners
Rene J. - Cleveland, OH
Synthia B. - Wayland, MI
Robert H. - Canton, CT
Shelley H. - Stuart, FL
Dorothy A. - Eunice, LA
Bill M. - Bowie, MD
Lorna S. - Santa Fe Springs, CA
Renee T. - Columbia, MO
Cheryl E. - Kent, WA
Sheryl H. - Muncie, IN
Susan H. - Whitewright, TX
Paula A. - Mesquite, TX
Julie H. - Juneau, AK
Paul C. - Albuquerque, NM
Diane A. - McCall, ID
Pam B. - Atascadero, CA
Igleceria C. - Dallas, GA
Karen M. - Peoria, AZ
Alicia J. - Richford, VT
James A. - Byron, GA
Stephanie F. - Tucson, AZ
Mary C. - Greensboro, NC
Hannah H. - Mayfield Heights, OH
Stephen O. - Mauston, WI
Stephen C. - Framingham, MA
Pam W. - San Jose, CA
Lois M. - Vail, CO
Darrell A. - Palm Coast, FL
Joshua H. - Hamburg, NY
Allan F. - Mineola, NY
Mike H. - Highland Village, TX
Linda C. - Akron, OH
Kim L. - Salt Lake City, UT
Ellie W. - Garland, TX
Casey R. - San Jose, CA
Deborah L. - Sterling, VA
Andrew D. - Richmond Hills, NY
Katherine E. - Machesney Park, IL
Bonnie T. - Cadiz, KY
Viktorija D. - La Grange, IL
Diane M. - St Louis, MO
Audrey M. - Scott Township, PA
Richard R. - Midland, PA
Norman B. - Roanoke Rapids, NC
Velichka L. - Toano, VA
John S. - Gallipolis, OH
Denise R. - Charlotte, NC
HGTV Ultimate Outdoor Awards Giveaway
Derek J. – Indianapolis, IN
TLC Bridal Bracket 2019
Kerry B. – Stafford, VA
Mediacom My Lottery Dream Home Sweepstakes
Grand Prize Winner:
Christine W. - Waconia, MN
Weekly Prize Winners:
Kevin R. - Havana, FL
Bryan B. - Des Moines, IA
Liza M. - Navarre, FL
Rilaine J. - Waukee, IA
Edward B. - Coal Valley, IL
Paula B. - Keokuk, IA
Libman Forget The Messes Sweepstakes
Grand Prize Winner:
Anderson M. - Clarksville, IN

Weekly Prize Winners:
Marie K. - Kingston, NY
Kelly G. - Yukon, OK
Linda S. - Carrollton, MO
Linda H. - Kenosha, WI
Travel Channel's Ultimate Spring Break Sweepstakes
Stephanie B. - Florissant, MO
Travel Channel's Warm Weather Escape Sweepstakes
Frederick B. - Birmingham, AL
HGTV Dream Home 2019
Beverly F. - Osgood, IN
Lumber Liquidators Dream Floor Giveaway
Lauren R. - Macon, GA
HGTV HOME™ by Sherwin-Williams Live for Ta-Da! Sweepstakes
Glenda K. - Peculiar, MO
Melissa S. - Port Clinton, OH
Kathryn K. - Greenville, SC
Ginevra W. - Edgewater, NJ
Gina H. - Cotati, CA
Marilyn D. - Worcester, MA
Lisa P. - New Bedford, MA
Travel Channel's New Orleans Vacation Sweepstakes
Matthew A. – Cookeville, TN
Travel Channel's Fall Color Road Trip Sweepstakes
Susan P. – Crossville, TN
Travel Channel 30 Days of Getaways Sweepstakes
09/12/2018 - Myrtle Beach
TC M. - Philadelphia, PA
09/13/2018 - New York
Bobbie O. - Saint Paul, NE
09/14/2018 - Chickasaw Country
Dana S. - West Covina, CA
09/15/2018 - Winner's Choice
Lawrence S. - Port Orchard, WA
09/16/2018 - Kentucky
Rachael G. - Bristol, PA
09/17/2018 - Chicago
Rhonda P. - Puyallup, WA
09/18/2018 - Sonoma County, CA
Chantal A. - Las Vegas, NV
09/19/2018 - Winner's Choice
Marilyn S. - Eufaula, AL
09/20/2018 - San Jose
Carolyn T. - Clairfield, TN
09/21/2018 - Boston
Josh A. - Rogersville, AL
09/22/2018 - Colorado
Erin W. - Scottsdale, AZ
09/23/2018 - Travel Channel Branded Gift Pack
Sharon M. - Ocala, FL
09/24/2018 - Atlanta
Linda E. - Chelsea, AL
09/25/2018 - The Palm Beaches
Phyllis R. - Pocola, OK
09/26/2018 - Los Angeles
Robin K. - Spokane, WA
09/27/2018 - SimpliSafe Fortress System
Donna B. - Mason City, IL
09/28/2018 - Philadelphia
Scott W. - Elburn, IL
09/29/2018 - Maine
Scott S. - West Des Moines, IA
09/30/2018 - Winner's Choice
Anthony L. - San Jose, CA
10/01/2018 - Colorado
Cynthia K. - Charleston, SC
10/02/2018 - Winner's Choice
Ingrid B. - Ramsey, NJ
10/03/2018 - Tampa Bay
Justin L. - San Diego, CA
10/04/2018 - Winner's Choice
Lycette M. - Teaneck, NJ
10/05/2018 - Winner's Choice
Jeff B. - Tucson, AZ
10/06/2018 - San Jose
Amanda C. - Bronx, NY
10/07/2018 - Winner's Choice
Nancy P. - Concord, NC
10/08/2018 - Ft. Myers and Sanibel Beaches
Vickey S. - Bolivar, TN
10/09/2018 - San Diego
Cindi P. - Crozet, VA
10/10/2018 - Sonoma County, CA
Nick M. - Longwood, FL
10/11/2018 - Winner's Choice
Lois S. - Hernando Beach, FL
HGTV Urban Oasis 2018
Lois A. – Detroit, MI
Overstock Your Space Your Way With $10K Sweepstakes
Grand Prize Winner:
Ryan H. - Glenshaw, PA
Weekly Prize Winners:
Rose S. - Bellefonte, PA
Alberta R. - Columbus, IN
Barbara S. - Littleton, CO
Becky C. - Brighton, TN
Bruce P. - Indianapolis, IN
Ann T. - Pittsburgh, PA
Kim S. - Hermon, ME
Yvonne H. - Dallas, TX
Lumber Liquidators Flooring Oasis Giveaway
Ann A. – Knoxville, TN
Grand Prize Winner
Gary M. - Morrisville, VT
Weekly Prize Winners
Joshua C. - Abilene, TX
Jennifer P. - Port Ludlow, WA
Harvey R. - Scottsboro, AL
Rachel R. - Columbiana, AL
Karen R. - Boonville, IN
John G. - Murfreesboro, TN
Dirk I. - Highland, CA
James H. - Pasco, WA
HGTV Faces of Design Awards Giveaway 2018
Gloria-Jean B. – Mineola, NY
Travel Channel's Ultimate Bucket List Sweepstakes
Pamela S. - Green Lane, PA
Lumber Liquidators Blue Ridge Retreat Flooring Giveaway
David S. – Pasco, WA
Cabot Stain's Make Your Deck Great Sweepstakes
Susan H. – Deerfield, FL
GAC Stash of Cash Sweepstakes 2018
Sidonia S. – Fayetteville, NC
Genius Kitchen Golden Noms Voting Sweepstakes
Russell C. – Fulton, MO
#BetterWithBEHR Contest
Grand Prize Winner
Colleen H. – Dunkirk, MD
Weekly Prize Winners
Colleen H. – Dunkirk, MD
Susana U. – Rochester Hills, MI
Sadie T. – Albuquerque, NM
Daryl S. – Warren, MI
Hilton Garden Inn Sophisticated Bites Sweepstakes
Janice B. – Bakersfield, CA
Leslie R. – Victory Mills, NY
Joselyn H. – Tampa, FL
Grill Your Best Contest Sponsored by McCormick
Ellen V. - Gloucester, MA
Norwegian's Sail Away Giveaway
Richard H. – Newnan, GA
Find More Texas Sweepstakes
Steve Z. - Williamsburg, VA
Firehouse Subs Side Dish Challenge
Robbin W. - Tinley Park, IL
Food Network Star Fan Favorites Sweepstakes
Richard C. – Edwardsburg, MI
Travel Channel's Alaskan Adventure Sweepstakes
Amanda S. - Harriman, TN
HGTV Ultimate House Hunt
Keith M. – Bellevue, WA
DIY America's Most Desperate Landscape
William M. – Chandler, AZ
HGTV Smart Home Giveaway 2018
Josephine M. – Long Island, NY
Benjamin Moore's Paint it Right Sweepstakes
Grand Prize Winner
Anthony R. – Grant, NE
GAC Summer Across America Sweepstakes
Dorothea D. – Cypress, CA
Chopped at Home Challenge Presented by Arla
Lidia H. - Pasadena, CA
Wayfair Love Your Home Sweepstakes
Grand Prize Winner
Michael R. - Houston, TX
Weekly Winners
Janice J. - Newport News, VA
Keith N. - Mount Sinai, NY
Teresa H. - Little Elm, TX
Melissa M. - Dallastown, PA
Brenda C. - Chico, CA
Mark R. - Indianapolis, IN
Amy D. - Brookings, SD
Jacqueline H. - Wilkes Barre, PA
Travel Channel's Savannah Vacation Sweepstakes
YiLan E. - Flint, MI
Food Network's Fantasy Kitchen Sweepstakes
Karen C. – Tucson, AZ