Clock's ticking on TNFNS 5 Casting
If you missed the memo, casting submissions are still being accepted until November 14, 2008. Get the full details on what you need to know and how you need to do it. If you need inspiration, watch a few entries first.
Want some other shots to land on Food Network?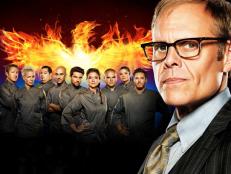 Redemption: That's what the newest season of The Next Iron Chef is all about. You'll see 10 familiar chefs battling it out again, proving they've got the skills to win the ultimate prize: the title of Iron Chef.