// params: (playerid, channelid)
// player id needs to be unique for this video and match the div id above
var snap = new SNI.Food.Player.Blog('fn-dish-11-17-9-00am','12261');
The FN Dish's Bruce Seidel visits Iron Chef Cat Cora at a book signing and Bon Appétit culinary demo.
To win an autographed copy of Cat's new book, Cooking from the Hip, tell us about your favorite Cat Cora recipe in the comments section below!
Contest Ends: Sunday, November 23, 11:59PM/10:59c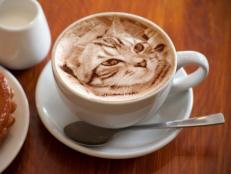 Cats meet coffee. A Twitter user immortalized her pets in latte foam, part of a growing movement of java artists using milk foam and espresso to shape animal masterpieces.