Paula's Cupcake Palette, Naturally
I recently befriended a pastry chef, who inspired me to try my hand at baking. While her idea of baking includes creating pastel-colored French macaroons from scratch to perfection, I thought I would start simple. My husband's favorite: Paula Deen's Red Velvet Cupcakes for Valentine's Day! I have always loved Paula's butter-filled recipes.
But who knew it would be next to impossible to find real red food dye in New York City? After searching in below-freezing temperatures I finally found red natural food dye. I seriously thought if Mr. Ace of Cakes Duff could find vibrant colors for Charm City Cakes in Baltimore, my NYC search would be a breeze. Whole Foods to the rescue. Not exactly the bright red I was hoping for, but perhaps a more romantic crimson? I started combining the ingredients for the batter, which surprisingly include cocoa, white vinegar and buttermilk. How appropriate for Paula: buttermilk. She'd have it no other way.
Lastly, I added the 2 full tablespoons of dye the recipe called for, which made the batter not red but… FUCHSIA! I was mystified, and when my husband entered the kitchen he wondered aloud what inspired me to make hot-pink food for him on Valentine's Day. He knows I am absurdly girly but this was taking things to the next level. I still decided to pop them in the oven, hoping for a 20-minute miracle of luscious red deliciousness.
The cupcakes came out more maroonish than red (think Jersey Shore tan, a la Snookie). Once they cooled, amid a few bumps in the otherwise creamy cream cheese icing, I smoothed on the frosting and voila! Next time maybe I'll use regular food coloring. Paula Deen's Red Velvet cupcakes had gone slightly south but my loving husband ate them with his eyes closed, promising they tasted not only delicious but red.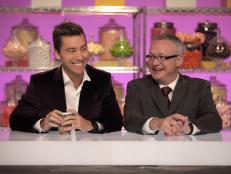 This weekend watch all new episodes from Paula, Ree, Giada and Jeff and then tune in for some action on Cupcake Wars, Chopped All-Stars and Restaurant Impossible.