Our friends over at Tasting Table recently hosted a Lobster Roll Claw-Off featuring some of NYC's finest versions of the classic. We were lucky enough to attend and sample all eight sandwich competitors.
You don't have to be an East Coaster to enjoy this summertime favorite. Try these new takes on the traditional roll from Food Network hosts.
— Angela Moore, VP FoodNetwork.com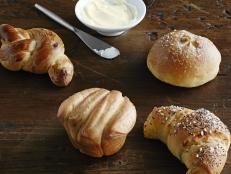 Don't let the breadbasket become an afterthought. Yeast or no yeast, baking from scratch is easier than you think.