Side Dish: More Food on the Web
Trend Alert! Garlic Bread? The Wall Street Journal was surprised to find two trendy NYC restaurants serving spruced-up garlic bread. Will we start to see the garlicky favorite making menu appearances all over the place? Will garlic bread be the new bacon? [Wall Street Journal]
No Cash for Cookies: Shoppers who pay for groceries with cash are less likely to splurge on cookies, cakes, candy and other guilty pleasures than those swiping credit cards, the Journal of Consumer Research reports. This news is either an excellent dieting tip or takes all the fun out of "rewards cards." [New York Times]
Loud Noise Drowns Out Flavor: Researchers studying students as they chomped on snack foods and listened to various volumes of white noise through headphones have found that volume levels affect flavors registered. "Turns out the students listening to blaring static rated the chips as less salty and the cookies as less sweet—even though they were tasting the same foods as the other groups," the Scientific American reports. We're hoping this helps explain the cardboard-y taste of airplane food. [via newyork.grubstreet.com]
A Celery Situation: A Florida produce company is introducing red celery to select supermarkets on December 1, the AP reports. It took 20 years for Duda Farm Fresh Foods to breed these colorful stalks, and the company's president assures that the veggie will retain the same flavor and crunch of its green counterpart. [news.yahoo.com]
Letter Grades Come to Food Trucks: Los Angeles food trucks will soon have to post inspection results on their rigs for would-be customers to view. We trust whatever grease and oil they're working with, right? [The Nation's Restaurant News] [The Great Food Truck Race]
Here's our round-up of food news, trends and happenings across the web. Check back for more, and tell us what else you're loving in the comments.
Trend Alert! Garlic Bread? The Wall Street Journal was surprised to find two trendy NYC restaurants serving spruced-up garlic bread. Will we start to see the garlicky favorite making menu appearances all over the place? Will garlic bread be the new bacon?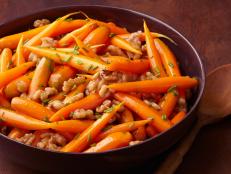 You won't run short on side dishes this year...or next.