Three Ways to Use: Creamed Corn
By:
Food Network Magazine
Creamed corn is a staple around the holidays, but how do you jazz up the canned version without doing the same ol' boring thing?
That's where Loan Malonzo, Santos Loo and Leah Brickley come in. These three chefs transformed this old-fashioned classic into corn puffs, tamales and ice cream.
Loan says: "These are like gougeres, French cheese puffs. The first time I had gougeres, I fell in love."
Santos says: "These would be delicious for breakfast with a cup of Mexican hot chocolate."
Leah says: "A can of creamed corn makes this ice cream really rich and smooth, just like French vanilla."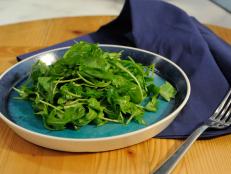 Start with GZ's go-to vinaigrette, then dress it up with additional ingredients for bold flavors and textures.