Chuck Hughes' Top 5 Places to Eat in Montreal
By:
Food Network Magazine
Chuck Hughes, host of Cooking Channel's Chuck's Day Off, reveals his favorite hometown dishes in Montreal.
Bifana Pork Sandwich from Rotisserie Portugalia
At this Portuguese barbecue joint, thinly sliced pork marinates for hours before it hits the grill, then it arrives at the table piled on a soft Portuguese roll. "It's simple and it's that good," Chuck says. "Don't ask for toppings or cheese." No, really— don't: The restaurant refuses to alter its trademark sandwich, even for regulars. $9; 34 Rue Rachel Ouest; rotisserieportugalia.ca
Sesame Bagels from Fairmount Bagel Bakery
These Montreal-style bagels, sweeter and smaller than traditional New York bagels, gained popularity when Fairmount Bakery, Montreal's first bagel shop, opened in 1919. (The chef also loves nearby St-Viateur Bagel.) The bagels are hand-rolled, boiled in a copper kettle of honey water, then cooked in a wood-fired oven until they're nice and chewy. "The most important thing is to eat one right off the bat," Chuck says . $7 for 12; 74 Avenue Fairmount Ouest; fairmountbagel.com/eng
Hot Dog Michigan from Orange Julep
After playing hockey, Chuck hits this stand for a victory meal: an 8-inch hot dog with Bolognese sauce. He pairs it with an orange julep, a creamy, frothy nonalcoholic drink. "The place is housed inside a giant orange," Chuck says. "You can probably see it from an airplane!" $3; 770 Boulevard Decarie; 514-738-7486
Cappuccino from Caffe San Simeon
When Chuck is in the mood for serious coffee, he stops by this café in Montreal's Little Italy, where each cappuccino comes with a dash of cocoa and a cookie for dunking. "I just go there because I want to watch the old man make it." Chuck says. "He makes a cappuccino like it's a science." $2.50; 39 Rue Dante; 514-272-7386
Chuck is a sucker for this local chain's signature burger. The patty is extra thin, the toasted bun is as flat as a CD, and every burger comes topped with mustard, relish, onion and a secret sauce. "You could eat, like, 12 of these burgers," he says. "They're dangerous." $2; multiple locations; dicanns.ca
(Photographs by Dominique Lafond)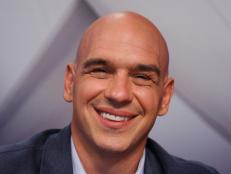 Iron Chef Michael Symon — the unofficial mayor of Cleveland — tells Food Network Magazine what to eat in his hometown.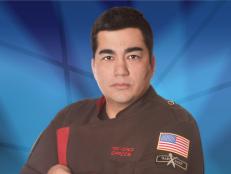 Iron Chef Jose Garces dishes on his favorite foods in Philly, including spinach gnocchi, chicken on a stick and deep-dish pie.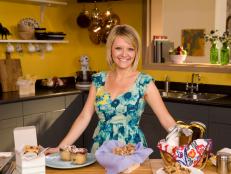 Kelsey Nixon, host of Cooking Channel's Kelsey's Essentials, tells Food Network Magazine what to eat in her hometown, Salt Lake City.