How to Bake a Better Potato
By:
Food Network Magazine
Hot Tips From Food Network Kitchens' Katherine Alford:
To improve your baked potatoes inside and out, brush the skin with olive oil or melted butter before baking; it'll crisp the skin. And don't wrap potatoes in foil — just prick them all over with a fork (to help steam escape) and bake at 375 degrees F until tender, about 50 minutes. To speed up the cooking process, start the potatoes in the microwave for 12 minutes, then brush with oil and finish in the oven for 10 minutes, like we did for the Steak With Blue Cheese Potatoes recipe pictured above.
(Photograph by Christopher Testani)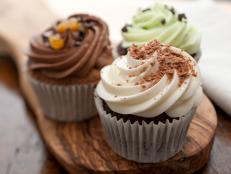 Cupcakes are easy to bake, but little tips and tricks will help you make the best batches. Here are a dozen rules of thumb — plus a bonus one — for how to bake like a pro.