Toasted Ravioli — Most Popular Pin of the Week
The holiday parties may be over, but the entertaining season continues with the Big Game right around the corner. This week's Most Popular Pin of the Week: Food Network Magazine's Crispy Fried Ravioli, a sure crowd-pleaser for any get-together. There will always be plenty of chips, dips and chicken wings present, so why not bring something different to the table?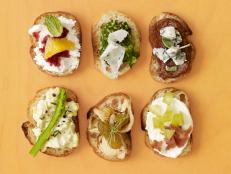 Find 50 ideas for quick and easy toast toppers from Food Network Magazine.