By:
Food Network Magazine
Folks in San Antonio love a good April Fools' joke. A signature dish at the A Night in Old San Antonio street fair is a "shypoke egg": a tostada topped with circles of melted white and yellow American cheese (a jalapeno slice highlights the "yolk"). The sunny-side-up look-alike was invented at Hipp's Bubble Room, and though the restaurant closed in 1980, event organizers still make the "eggs" from the original recipe. Try some at the festival, which kicks off April 23 ( admission from $10; niosa.org). Or take a crack at them yourself.
( Photograph by Sam Kaplan)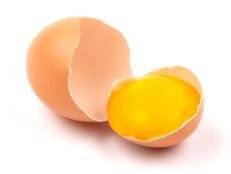 By now you've probably heard the rumor that eating egg yolks is as bad for your heart as smoking. We just had to weigh in on this!