Game-Changing Egg-in-a-Hole Ideas
What's stopping you from cracking an egg into the center of a fluffy, glazed doughnut?
Call it egg in a basket, toad in a hole, egg in a frame or one-eyed jack; an egg fried in a hole of toast is nothing new, but it's still amazing. You'll be met with smiles round the table each time you serve the sunny-side up breakfast treat — bonus points if it's a weekday. Whether it's because the bread gets extra buttery in the skillet or because there's almost always a debate over what to call it, the simple trick makes regular ol' eggs and toast so much more fun. But why confine your runny yolk to sandwich bread? What's stopping you from cracking an egg into the center of a fluffy, glazed doughnut?
Food Network Magazine's dozen new ideas for eggs in holes are groundbreaking. You already know putting a fried egg on top of almost everything instantly amps up the craveability factor. The same theory applies to eggs' nests: pizza, doughnuts, grilled cheese sandwiches, you name it. Pick your nest and put an egg in it.
Flip through Food Network Magazine's sweet and savory nest ideas, or come up with your own! Then follow these basic egg-in-a-hole instructions:
1. Cut a 2-inch hole in the center of your "nest" with a cookie cutter or small drinking glass.
2. Cook the nest in a buttered ovenproof nonstick skillet over medium heat until toasted on the bottom, 2 to 3 minutes. Flip and crack 1 egg into the hole; season with salt and pepper, and cook until the white starts setting, about 2 more minutes.
3. Transfer the skillet to a 375 degrees F oven; bake until the white is set but the yolk is still runny, about 4 minutes (or up to 8 minutes for deeper nests).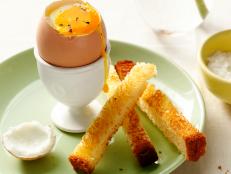 Egg lovers, rejoice! Here's a recipe for every Sunday until this time next year from Food Network Magazine.