Our Faves of Your #FoodNetworkFaves: The Burger Edition
Every other week, we're coming your way in search of the greatest creations made in your very own kitchen. Behold, our first round of #FoodNetworkFaves favorites!
No matter your Instagram following, your filtering prowess or your like-to-minute ratio, nothing truly proves #deliciousness like an old-fashioned, ready-set-go contest. Every other week, we're coming your way in search of the greatest creations made in your very own kitchen. When we call out the theme on Instagram, put your cooking skills to the test by whipping up your go-to Food Network recipe, snapping a photo and tagging #FoodNetworkFaves for your chance to be featured on FN Dish!
In honor of grilling season, we asked you to share your latest, greatest burger creations with us on Instagram. In return, our #FoodNetworkFaves hashtag flooded with all the juicy, towering grilled beauties you've been eating this summers. Regardless of how you take your burger, there's no denying: These are the best-lookin' burgers between two buns.
Feast your eyes on this week's burger winners!
@claudinecuisine killed it with a lofty homemade bacon cheeseburger with onion rings and sweet potato fries. Hey, the city views don't hurt either.
@wesleyjszabo built a burger worthy of his namesake: the Szabo-tage. Complete with caramelized Sriracha-barbecue sauce onions, sharp cheddar and Gruyère, this grass-fed beef burger is piled high atop a lightly toasted brioche bun in all the right ways.
Smothered in melted cheese, this burger from @crida_cooks is a thing of beauty. The juicy patty is charred in all the right ways, dripping in sauce and joined by all the necessary fixings.
When it comes to burger night, @jfromscratch doesn't mess around. This double-patty sensation comes stacked with cheddar and bread and butter pickles, plus homemade ketchup and mustard, all atop a plush, locally made bun.
Want in on the fun? Stay tuned next week for our next Instagram call-out. Happy cooking!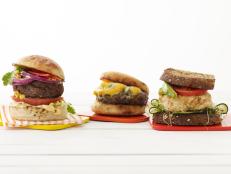 Fire up the grill! Food Network Magazine created 50 sizzling burgers — enough to keep you satisfied all season long!