A Celebration of Spring Vegetables with Josh Cellars and Chef Kevin Johnson
Kevin Johnson, the owner and executive chef of The Grocery in Charleston, South Carolina, updates the spring classic of lamb with the addition of two fresh vegetable side dishes.
Kevin Johnson, the owner and executive chef of The Grocery in Charleston, South Carolina, updates the spring classic of lamb with the addition of two fresh vegetable side dishes. But he doesn't just throw everything together. He carefully considers how to compose vegetable dishes to complement the lamb and Josh Cellars' Cabernet Sauvignon. Kevin says, "When you're cooking, similar to making wine, you have to build all the layers in order for it to come together."
He applies this to his love of vegetables. While in his early 20s, Kevin decided to become a vegetarian; at the same time, he started preparing his own meals He picked up a cookbook, started cooking, and found his calling. Even though he now eats meat—and cooks it as a James Beard award-nominated chef—Kevin still finds that vegetables are his ultimate comfort food.
In this video, Kevin and Joseph Carr, founder of Josh Cellars wines, share their passion for great ingredients, which are essential to both great food and wine. They find a common bond in their commitment to building, balancing, and layering flavors. To build a salad that really works, Kevin shaves something raw—here, peppery radishes and earthy beets—for crunch against something roasted—in this case, soft and sweet roasted red onions. He adds to that barely-wilted pan-seared Brussels sprouts leaves, and chewy, nutty farro. He carefully folds everything together with a sherry vinaigrette to ensure that each bite delivers the full range of flavors and textures and tops it all off with herbs for a fresh finish.
Although Josh Cellars Cabernet Sauvignon contains one key ingredient—grapes—it has as many nuanced flavors. One of the regions from which Josh Cellars sources the grapes is Lodi, California, just north of Napa, where the volcanic soils create lush, rich Cabernets. The result in this particular Cabernet is a big, ripe red wine with hints of black currant and plum. It's great with Kevin's salad and even better with the grilled lamb loin he serves alongside.
Kevin and Joseph agree that the deep, gamy richness of lamb perfectly complements the Cabernet Sauvignon. To match the wine's acidity, Kevin tops the lamb with a bright salsa verde. He starts the simple sauce by pounding whole garlic cloves in a mortar with a pestle. When they're smashed and juicy, he makes them saucy with a generous glug of olive oil, then folds in fresh parsley, tarragon, basil and mint. Spooned all over the lamb, the salsa mingles with the meaty juices. Each bite only gets better when followed with a sip of wine.
To tie those dishes together, Kevin chars broccoli and tops it with slices of radishes. They evoke the same homey yet modern warmth as his award-winning restaurant, which inspires nostalgia for small-town groceries with its abundant use of local ingredients, homemade cured meats and in-house canning program. More importantly, the restaurant is a family affair. He and his wife opened it together and chose a name inspired by the initials of their three sons. They strive to make everyone feel like family at their tables. They serve the sort of food that Joseph and his father, Josh, for whom the wine is named, enjoyed sharing together.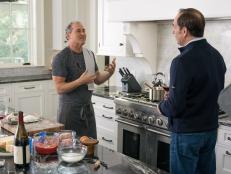 Chef Ken Vedrinski's dish brings families together over a traditional Italian meal that is paired with the perfect red wine.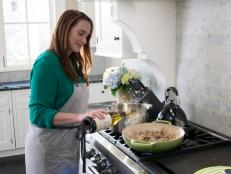 When a single bottle of wine does double-duty as cooking ingredient and dinner drink, it's a definite winner.