Thurby, How Locals Celebrate the Kentucky Derby
In recent years the Kentuckian holiday has become somewhat of a national celebration — and more difficult for locals to attend.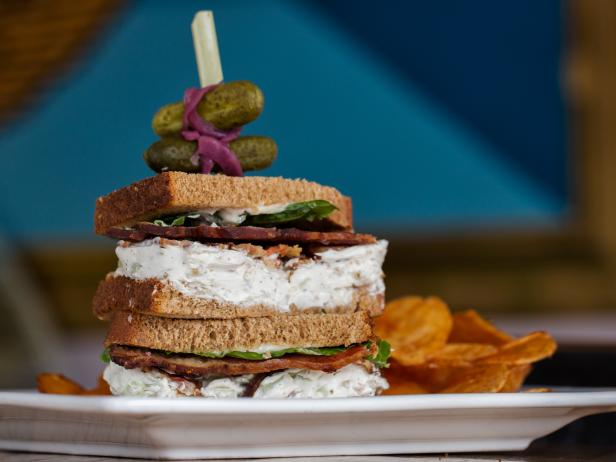 Benedictine: La Peche Gourmet-To-Go (Louisville, Kentucky)
Sometime in the late 1800s Louisville native Jennie Benedict mashed together cream cheese, cucumber juice, onion juice and seasonings into a spread. That simple combination has gone on to become a mainstay during Derby week, when locals chow down on it as a dip or between slices of bread. But it's a yearlong staple at La Peche Gourmet-To-Go, which is attached to Lilly's Bistro. There, acclaimed chef Kathy Cary makes a crunchy, cucumber-rich version that's even better than the original recipe and is especially attractive sandwiched together with some crispy bacon and crunchy lettuce.
While the Kentucky Derby is an exciting time for horse racing and julep sipping, in recent years the Kentuckian holiday has become somewhat of a national celebration — and, thus, more difficult for locals to attend.
According to Rob Samuels, eighth generation whisky maker and COO of Maker's Mark, "As Kentuckians, we love sharing the Derby with everyone. But these days, the track has become inundated with out-of-towners."
Turned out, the solution was a mere matter of changing the date of the festivities.
Locals used to celebrate on Oaks Day (the Friday before Saturday's Derby). And when that became too busy, born was the annual tradition of Thurby (the Thursday before Derby).
"Most of the traditions are the same – hats, bow ties and fascinators will all make an appearance at Thurby events and celebrations. You still dress in your Derby best and enjoy a delicious bourbon cocktail. But you get to do so without the fuss or the lines.
"Boiled down: It's locals taking back Derby."
While racegoers can still enjoy a traditional mint julep, Samuels prefers a Keeneland Breeze — a refreshing cocktail of choice at Keeneland, one of the Derby race courses. According to the whiskey expert, it pairs perfectly with a Benedictine sandwich (pictured), another staple of Kentucky, and with burgoo, a specialty native stew.
"If you've never had burgoo, you're missing out."
1 orange wedge, for garnish
Fill a rocks glass with ice. Add the bourbon, a splash of the DeKuyper Orange Curacao liqueur and a squeeze of fresh orange. Top off with the ginger ale and garnish with the orange wedge.