Family Brunch with the d'Arabians and an Easy Easter Menu
Melissa looks back on a memorable family brunch on her show, Ten Dollar Dinners, and shares a few go-to meals for holidays and anytime brunches alike.
It's Easter week, so we are loading up the minivan with the kids and heading out to spend the holiday with family. One of the great pleasures of my life is turning around from the front passenger seat of our minivan and seeing all four of my kids sitting in their seats, all buckled and excited for whatever adventure awaits the d'Arabians. Something about that view, even if they are just watching the DVD player that I swore I would never use when I bought the car, reminds me that at my core, the identity in life that brings me the most joy is that of being the mom of this family.
One of my favorite episodes of Ten Dollar Dinners is the one where my kids cooked with me. We made brunch: baked eggs with chorizo, a healthy smoothie and chocolate veggie pancakes. Valentine and Charlotte helped me cook (wow, they look young to me now in that episode!), while Margaux, Oceane and Philippe joined us to eat at the end of the episode. (It was the only time that gorgeous dining room table that our prop stylist had found at vintage shop was ever featured in an episode!) That was a real glimpse into what our family is like around the table, which is how I probably picture my family the most. The only unnatural part of that brunch (other than the cameras!) was the fact that we had to ask Philippe to speak in English to the girls for the purposes of TV. In real life, he speaks to them only in French. (In fact, for years the girls thought he didn't know how to speak English! But that's a story for another day.) If you listen closely, you can actually hear Oceane slip up and reply to Philippe in French in the last few seconds of the show.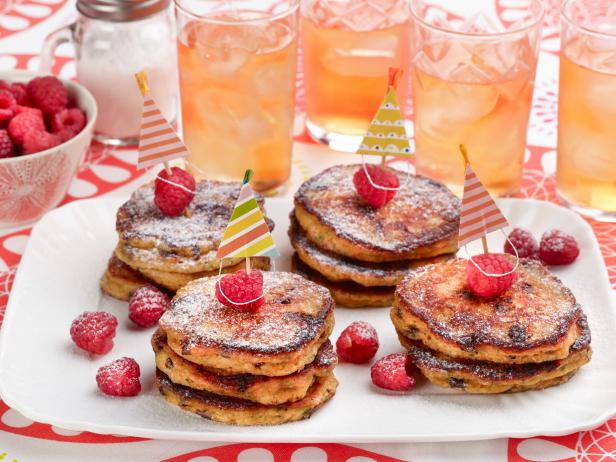 MelissadArabian_ChocolateChocolateVeggiePancakes_H1
Chef Name: Melissa d'Arabian Full Recipe Name: Chocolate-Chocolate Veggie Pancakes Talent Recipe: Melissa d'Arabian's Chocolate-Chocolate Veggie Pancakes, as seen on Ten Dollar Dinners FNK Recipe: Project: Foodnetwork.com, Back to School/Sandwich Central/Dinner and a Movie/Sides Show Name: Ten Dollar Dinners Food Network / Cooking Channel: Food Network
Renee Comet, 2013, Television Food Network, G.P. All Rights Reserved
Our family brunch from that episode is actually a perfect holiday (or regular!) weekend plan; the whole menu is simple enough that you can spend your time enjoying your family. And it is scalable, so whether you are a party of two or you're hosting a huge gathering, you can easily adjust the recipes to fit the bill. Find the recipes below:
Whether you are celebrating a holiday, heading out for spring break or relaxing at home this spring weekend, I hope you enjoy what counts: the people around you.