Foodie Call with Justin Warner: Basil Sorbet Caprese Salad
On the most recent episode of Foodie Call, Justin Warner remixes the Caprese salad, serving his with basil sorbet and a balsamic- and basil-infused "caviar."
Foodie Call: Basil
04:58
Justin Warner makes caprese salad with basil sorbet and basil seed caviar.
Those of you familiar with Food Network Star Season 8 winner Justin Warner know that the self-taught cook and popular Brooklyn restaurant owner has some seriously creative ideas when it comes to food. In the all-new Food Network Web series Foodie Call, Justin meets with culinary pros to chat about their hot-topic specialty foods, then wows each of them by coming up with entirely new ways to use the ingredient in a dish.
In the most-recent episode, Justin meets with Nicole Baum of Gotham Greens, an agriculture organization that designs, builds and operates commercial-scale greenhouse facilities in urban areas for fresh vegetable production. Nicole brings over some basil that has been grown down the street from Do or Dine, and Justin decides to give the classic caprese salad an even more summery twist. He turns that basil into a refreshing sorbet and serves it alongside tomatoes, mozzarella balls and a balsamic- and booze-infused basil seed "caviar."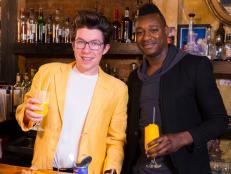 On this episode of Foodie Call, Justin Warner and Antoine Hodge create cocktails and blended drinks using increasingly popular turmeric.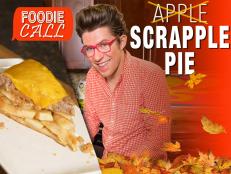 Justin Warner proves no topping is too crazy for an old-fashioned apple pie — sweet and savory unite forces for an untraditional twist!