Bobby Flay Hosts the Ultimate Late-Night Fiesta
In the city that never sleeps, tacos make the ultimate late-night snack. They're small, quick to eat and packed with flavor. So it's only fitting that this year's annual Tacos & Tequila party turned into a late-night fiesta. From 10pm until 1am, taco enthusiasts united and wandered the rooftop of Pier 92 with a margarita in one hand and a taco in the other. Bobby Flay returned as host of the popular Food Network City Wine & Food Festival event and was just as excited as his guests about the delicious fare created by his "brothers and sisters" in white chef jackets.
Dishing out the small plates were renowned chefs with an eclectic array of backgrounds and specialties. The team of Cafe El Presidente made its debut with mouthwatering carnitas and spicy corn esquites. Chef Harold Dieterle of the popular Thai restaurant Kin Shop returned with his brisket and bone marrow taco. And while Mike Price, chef and co-owner of The Clam in West Village, offered spicy clam and pork confit tacos, Ed McFarland from Ed's Lobster Bar in Soho handed out refreshing bites of chilled lobster with pineapple salsa.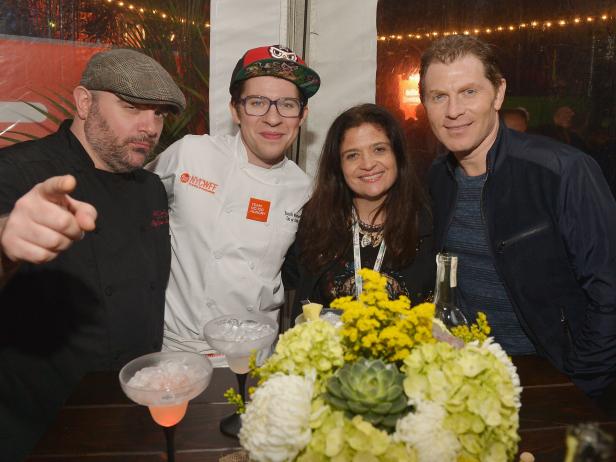 457472590
NEW YORK, NY - OCTOBER 18: Chefs Chris Santos, Justin Warner, Alex Guarnaschelli and Bobby Flay attend the CASAMIGOS Tequila presents Tacos & Tequila: A Late Night Fiesta hosted by Bobby Flay during the New York City Wine & Food Festival at Esurance Rooftop Pier 92 on October 18, 2014 in New York City. (Photo by Gustavo Caballero/Getty Images for NYCWFF)
Gustavo Caballero, 2014 Getty Images
Also present for the evening was Chopped judge Alex Guarnaschelli, who helmed the station of her New York City restaurant Butter. When deciding on what to serve, she told FN Dish, she just thought of what she wanted to eat and created the ultimate combination to suite her craving. The result? Oxtail tostadas with Jack cheese, smoked chili vinaigrette, fresh chilies (her favorite taco topping) and pickled shallots.
Perhaps the most-intimidating dish of the night came from the Do or Dine booth. Food Network Star Season 8 winner Justin Warner created a beef heart taco with a chipotle potato salad. It was a delectable combination you had to taste to believe, which was exactly his intention. He explained to FN Dish that he wanted to introduce something new and unusual to the table and surprise people by how much they liked it. He also shared with us his idea of the perfect taco, and it starts with a corn tortilla. He believes it's the only option that gives you a flavorful base: "It's like painting on a yellow canvas." Justin went on to explain that meat must be moist and paired with some sort of acidic component as well as ingredients from the allium family (which includes onions, garlic and shallots. And although he thinks that a delicious sauce is necessary, he just shook his head when we asked about cheese.
More from the New York City Wine & Food Festival:
Photos by Gustavo Caballero/Getty Images for NYCWFF and Lauren Miyashiro