Burger Bash 2014 Winners: Marc Murphy and Josh Capon
With views of the Hudson River to the west and the bright lights of the Big Apple to the east, dozens of A-list Food Network stars on hand, and the sweet summertime smell of grilled burgers wafting through the autumn air, the scene was set to kick off the New York City Wine & Food Festival's much-anticipated Burger Bash atop Pier 92 in Midtown Manhattan. This marks the seventh-annual celebration of all things between the bun, and in true Festival fashion, there was no shortage of eats, drinks or chefs as the walk-around tasting unfolded. Once again, Rachael Ray hosted the sold-out event as fellow Food Network favorites like Marc Murphy, Alex Guarnaschelli and Robert Irvine joined her to show off their signature offerings, and Anne Burrell and Andrew Zimmern, among others, judged the 30 burger offerings enticing the hundreds of fans.
After hours of deliciously meaty indulgence, guests' votes were tallied and Marc earned the judges' pick of the night with his Lamb-Marc burger (pictured above). The first-time winner wowed the panel with a tender lamb patty and a fresh mint chimichurri on top.
Continuing his winning streak, Burger and Barrel's Josh Capon scored the coveted title of people's choice with his juicy, cheesy Bash Burger with onion-bacon jam, a now-infamous offering at the event. FN Dish caught up with Capon at the Festival, and he revealed his secret to success: "We have a good time. That's the secret because the Bash is all about having a good time. Well, the caramelized onion and bacon jammy jam doesn't hurt either."
FN Dish was there as the winners were announced, and we checked in with Anne to find out what it takes to deliver a winning burger. "A very well-seasoned burger, a very good bun-to-burger ratio ... and that the toppings, to cheese to burger, match" are just a few of the things she said she's looking for. "It all has to work together. It's a team effort," she added.
For Robert, ever the critical restaurant renovator, there are several makings of the ultimate burger: "It has to be moist. It has to be seasoned correctly. It has to be cooked perfectly. The roll has to be fresh and bouncy. There has to be some texture to it. And you have to be licking your lips when you finish that." The Bavarian Burger he offered at the Bash surely fit his must-have criteria, boasting over-the-top toppings like pork belly, onion-apple jam and pickled red cabbage, plus a bratwurst-studded potato salad on the side. "Everything you think about Oktoberfest we have in a burger," he said of his dish, which came in second place in the people's choice contest.
Most burgers at this year's Bash included a slice or smear of cheese atop the patty, like Shake Shack's MeisterShack (pictured above), a full-size offering with American and beer-scented fried shallots. But the Oozy, Juicy Lucy (pictured below) from Delicatessen's Chef Michael Ferraro featured a surprise wedged inside. Just one bite into this stuffed burger was enough to release the piping-hot cheese sauce and let the gooey goodness run into the meat's succulent juices.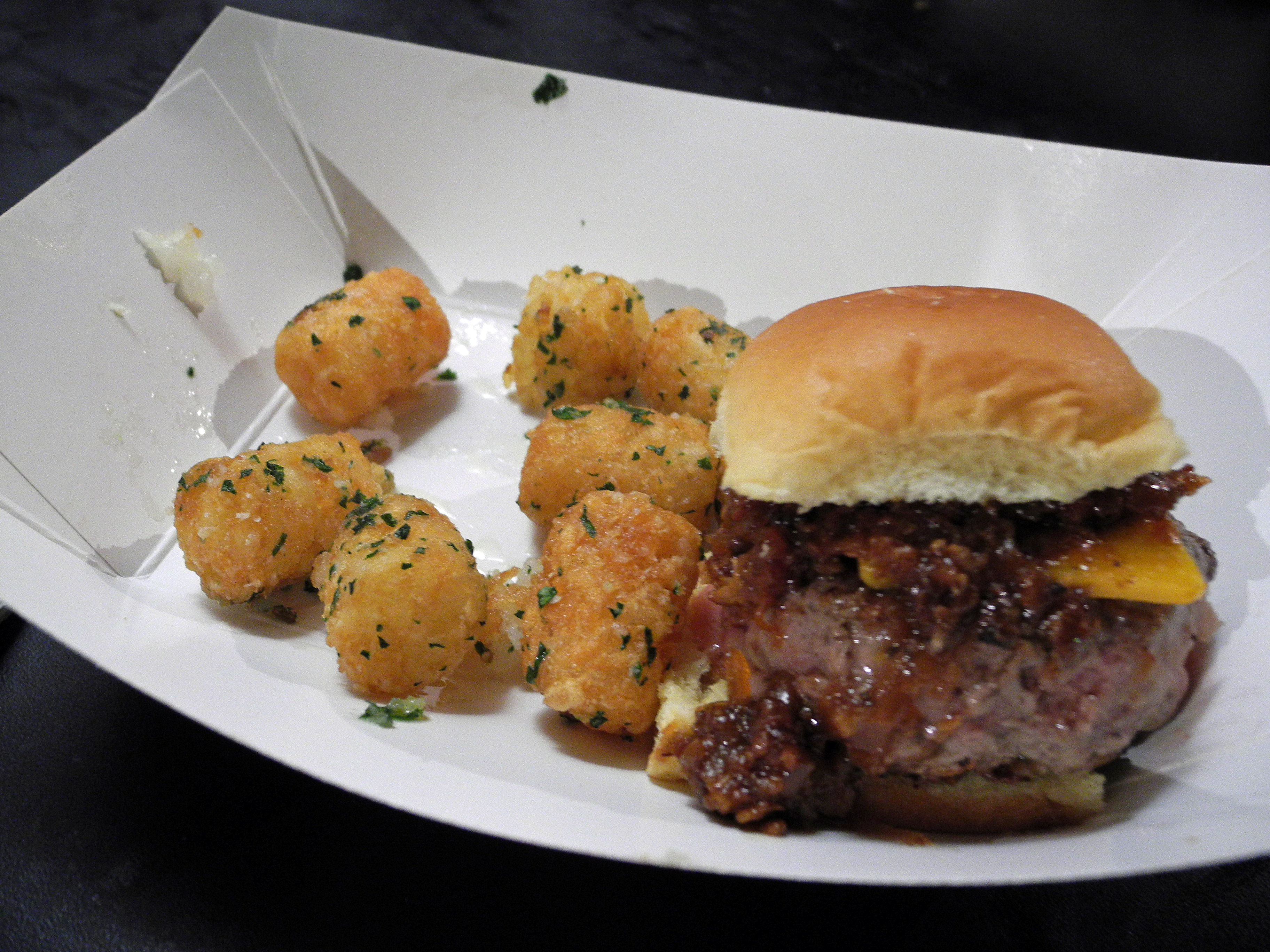 Keep coming back to FN Dish all weekend long for continued coverage of the 2014 New York City Wine & Food Festival.