The Most Delicious Bites & Sips at Feast Portland
Our favorites from the Portland's annual food festival
Oregon's fifth annual Feast Portland took place this weekend in the Rose City, and it once again delivered big on food, fun and flavor. The bacchanalia spanned dozens of events throughout the city with eats by local chef-favorites like Gregory Gourdet, Jenn Louis, Joshua McFadden, Naomi Pomeroy, Vitaly Paley and Cathy Whims — plus, big-name imports including Hugh Acheson, Aaron Franklin, Paul Kahan and Jessica Koslow. Of all the delicious bites, slurps and swigs we took over the three days of feasting, these were our favorites.
At the annual Night Market, dozens of chefs cooked up Latin-inspired eats with views of the Tilikum Crossing at sunset. Crown Paella constructed a decadent seafood paella with Dungeness crab and fried calamari in an impressive 6-foot wide, 6-handled pan set atop open flames (pictured above).
At a lunch at Superite showcasing Washington State Wine, husband-wise chef team Gabi Quiñónez Denton and Greg Denton served up plate after plate of PNW-centric ingredients. Standouts from the meal included albacore tataki with cantaloupe and fried shallots, pork confit with chanterelles, green beans and hazelnut chimichurri and small rounds of hand-cut pasta with truffles and Irish butter – the chefs' decadent, grown-up take on childhood favorite SpaghettiOs.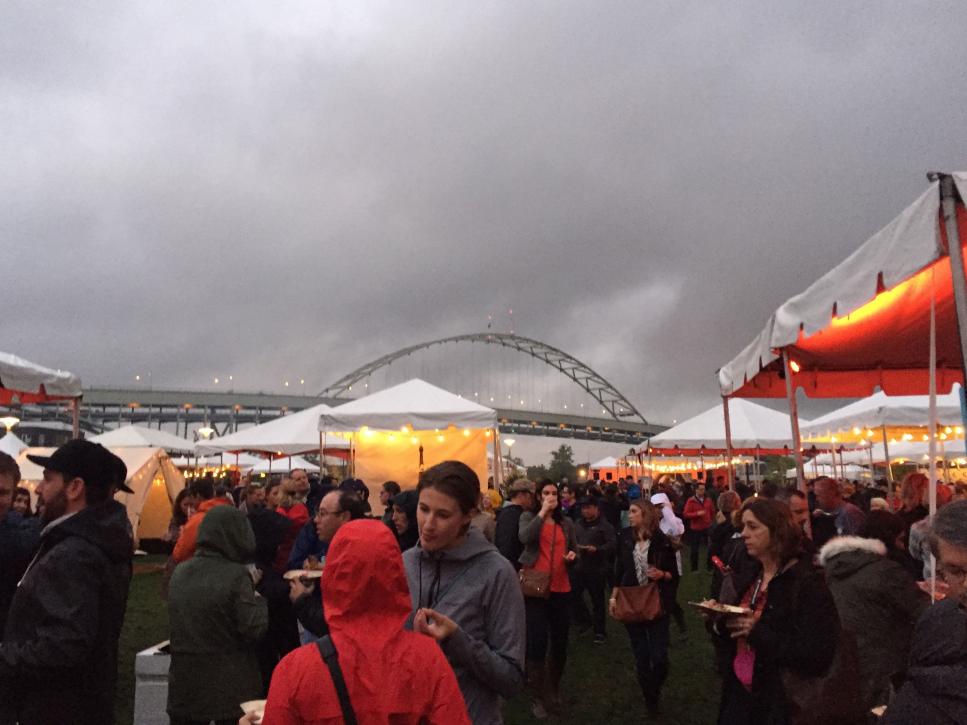 Grey skies and a few raindrops couldn't keep hungry foodies away from the second annual Smoked! Event (this is Oregon, after all), held Saturday night in The Fields with views of the Fremont Bridge. Chefs like San Francisco's Chris Cosentino and Portland's own Nong Poonsukwattana got creative with how they "smoked" their dishes, including tender bites of lamb shoulder with pickled veggies and yogurt sauce to mini meringue pies brûléed with a blowtorch.
This year's Sandwich Invitational boasted dozens of stellar sammies like Noble Rot's elk loin confit with liver, browned onions and a brandy spread, Trifecta Tavern's pulled pork with smoked oyster mayonnaise and cabbage slaw, and Renata's guinea hen porchetta topped with caramelized onion mayonnaise, arugula pesto and pickled fennel.
At "Shake, Stir, Build: Cocktail Techniques with Bull in China and Multnomah Whiskey Library," students learned the art of the cocktail at one of Portland's best luxe-cozy drinks dens. Once you mastered your shaking techniques with the help of an expert MWL bartender, you sipped your handiwork, sampled the nosh and moved on to the next cocktail station.