Try Making: A Red, White and Blue Gelatin Flag
A kid-friendly project that will bring the entire family together for Flag Day or the 4th of July, this Red, White and Blue Gelatin Flag by Food Network Kitchens will be the centerpiece of your party. Fun and festive, kids will enjoy making it just as much as they'll enjoy eating the sweet combination of strawberry-, coconut- and blueberry-flavored layers.
Find out what you'll need to create this dessert by clicking the play button below.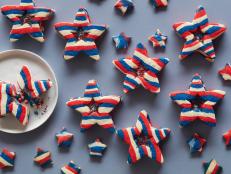 Memorial Day weekend cannot come soon enough!