Create a Candy Corn-Inspired Cheese Platter
By:
Food Network Magazine
Serve a candy corn-inspired cheese platter for Halloween.
To create this candy corn cheese platter, we molded goat cheese into a triangle to look like the tip, then we formed the middle with cubes of orange cheddar and the bottom with sliced havarti. Serve with crackers, or just replace the bottom layer with slices of pumpernickel bread — it'll look like a piece of Indian-candy corn.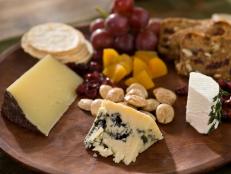 While creating a cheese platter is simple, having a few simple tips in your back pocket will ensure a sure-fire winning cheese course every time.