How to Make a Batch of Festive Crackers
By:
Food Network Magazine
Use your holiday cookie cutters to make fun tree-shaped crackers: Just punch out shapes from wonton wrappers (usually found in the refrigerated section of the produce aisle). Place them on a parchment-lined baking sheet, brush with pesto and season with salt; bake at 350 degrees F until golden around the edges, about 8 minutes. Let cool, then store in an airtight container for up to 3 days.
( Photograph by Jeff Harris)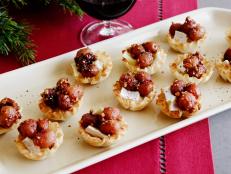 If you're welcoming guests this season, stay away from unwieldy appetizers in favor of these one-bite, hand-held appetizers that are showstoppingly elegant.