Dig Into Festive Holiday Party Dips
Holiday dips should never be boring or (gasp!) store-bought. Feast your eyes on Food Network's quirky layered dips, perfect for holiday gatherings and potlucks.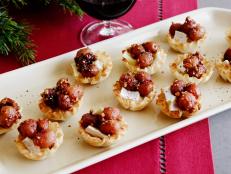 If you're welcoming guests this season, stay away from unwieldy appetizers in favor of these one-bite, hand-held appetizers that are showstoppingly elegant.