By:
Food Network Magazine
Hot Tips From Food Network Kitchens' Katherine Alford:
Next time you're battering food for frying, make sure the flour or cornstarch thoroughly coats your ingredients before you dip them in batter or egg because batter tends to slide off bare spots. Dip food in the flour a second time, then tap or shake off any excess before battering so it doesn't clump in the fryer.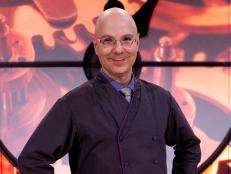 Create cake masterpieces with these easy decorating tips from Sweet Genius Ron Ben-Israel.