Essentials to Guarantee Not-Sad Desk Lunches
Dining at your desk can feel sad — like eating Thanksgiving dinner with plastic utensils. (The food may be delicious, but the circumstances make it less so.) But there is a way to make eating last night's leftovers actually pleasant — and I'm not talking about investing in one of those annoying bento lunchboxes that never have enough room for the main part of the meal. Over the years, I've come up with five essentials that bring dignity to lunch at work. Here's what I always have on hand.
1: A Low, Wide White Ceramic Bowl
White because most food — even a baked potato — looks good against it. Low because it can work for salads, soups, grains or a piece of chicken. And ceramic because it can go in the microwave (cold leftovers just invite depression).
2: Real Cutlery (i.e., a stainless steel fork and spoon)
They don't have to match, so grab those oddball orphaned pieces from your silverware drawer and put them to good use. Not only is it better for the environment, it's also a scientifically proven fact that nothing (other than North Carolina barbecue served in a Styrofoam container) should ever be eaten with a flimsy plastic fork.
3: A Sharp Paring Knife (preferably serrated!)
With one of these at your desk, you don't have to waste time before work on tedious prep and packing. Instead, you can just throw an avocado, a cuke and a cup of yogurt in your bag. Or maybe toss in a hunk of cheese, a roll and an apple. If that requires too much thinking, then just grab a bunch of leftover containers from your fridge. Come lunchtime, with a little dicing and slicing, you can assemble a fresh new meal.
4: Olive Oil
This is the ultimate flavor enhancer. Drizzle it on greens, sandwich bread, avocados, cut-up vegetables (see above), reheated rice, pork chops or soup. Practically the only thing I don't put it on is yesterday's moo shu pork.
5: Vinegar
Aka "acid" in Food Network Kitchen parlance — as in "Don't you think this stew/salsa/broccoli/slaw/squash could use a little acid?" Lemon also works wonders but is harder to keep fresh at your desk.
Not on the list are salt and pepper, which many office pantries keep with the sugar and the coffee-stirring sticks. If yours doesn't — or if your salt and pepper tastes have evolved — bring in a little stock from home. Or invest in some travel-size dispensers, as I have. You're not cooking meals for eight, so a little really will go a long way.
And there you have it. With the above tools, your midday meal should be more than bearable — even though I know you'll probably still eat it in front of your computer, as I do.
Inspired to bring your own lunch? Check out a few of Food Network's best on-the-go lunch picks.
Cold Soba Peanut Noodles with Chicken
Quinoa with Shiitakes and Snow Peas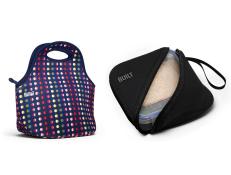 Enter to win a BUILT Bento Sandwich Box and Getaway Lunch Tote. Just let us know, in the comments, your favorite dish to pack for lunch.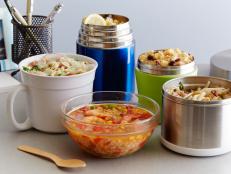 No matter if your limited office "kitchen" doesn't even have a microwave. All you need is boiling water from the coffeemaker and you've got a hot, satisfying lunch.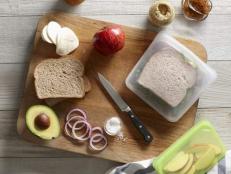 Between school supplies shopping and the final days of camp, you'll be grateful for fast shipping on these lunchboxes and more.