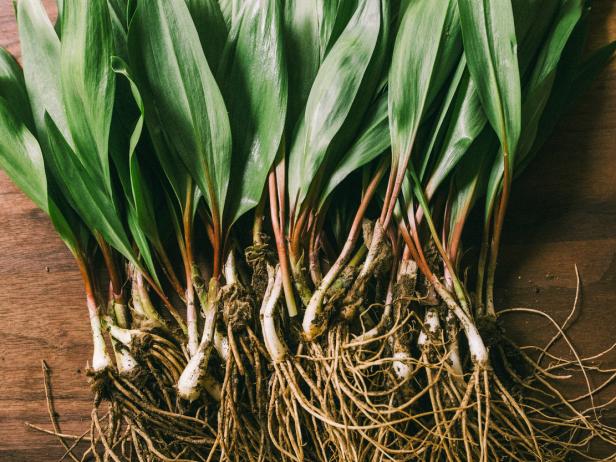 Ramps and Fried Potatoes
Enjoying almost cultlike popularity, ramps, or wild mountain leeks, are a seasonal delicacy that are like a cross between garlic and wild onions. Celebrated by locals and prized by some of the nation's top chefs — when they can get their hands on them — ramps pop up fleetingly and are often pickled by fans who want them year-round. Mountaineers flock to special ramp dinners each spring to enjoy them fried up with potatoes and sometimes ham, bacon and other pork products. Savor your first taste at the Feast of the Ramson in Richwood, known as the Granddaddy of Appalachian Ramp Feeds.
If you ask me, this is the most-wonderful time of the year. At least as far as produce is concerned, that is. The return of spring brings with it a bounty of fruits and vegetables — now that all that pesky cold weather is out of the way — which means that it's high time for all things rhubarb, asparagus, peas and fava beans. I look forward to all of these bright, fresh flavors, especially after a winter in which I ate more than my fair share of ultra-rich stews, baked pastas and roasts. But perhaps nothing gets me more excited than ramps.
Here in New York City, April turns into something of a rampage at the farmers market when these tender stalks make their springtime debut. The quantities are limited, the prices are high and the window in which they're available is narrow, which means that chefs and enthusiastic home cooks alike are prepared to go all-ramps-all-the-time for the time that they can. It's standard issue to see them on restaurants' lists of specials (think pickled ramps, grilled ramps, ramps on a pizza, ramps with pasta — you get the idea), and, of course, the hype is real when cooking ramps at home too.
So, why are these wild onions so great? Here's the thing: There's not much else quite like them. Ramps have a distinct taste that's at once bold and noticeably sweet, reminiscent of an onion-garlic mashup. They're sturdy enough to be charred — their green leaves turning wonderfully charred and crispy after a quick stay over a flame — but when you chop up their thin stalks and saute them, they become meltingly tender and mild.
Sold yet? To experiment with ramps at home, try incorporating them into dishes you know and love, like pasta and pizza. Start with Michael Symon's easy, speedy recipe for Orecchiette with Ramps and Favas, or go for Alex Guarnaschelli's Spring Pizzas, which are surprisingly healthy to boot. For something with a bit more bite, try your hand at Pickled Ramps — the process is a cinch.
If you can't find ramps near you, most recipes suggest substituting leeks or scallions.
We've drawn up a nifty Thanksgiving prep guide to help you get organized from now until the big day, Thanksgiving.
Ladies and gentlemen, now when you text your friends, you can spice things up with a little taco flava.
Rachael Ray and Guy Fieri are back to host season two of Food Network's Rachael vs. Guy: Celebrity Cook-Off. Celebrities will compete on Team Rachael or Guy.