Catch Guy on the Road: Book Tour Dates
Tuesday, May 14: New York City
Event: 5:30-7pm, Guy's American Kitchen & Bar (220 W. 44th St.)
Wednesday, May 15: Ridgewood, N.J.
Event: 8pm, Bookends (211 E. Ridgewood Ave.)
Thursday, May 16: Freeport, N.Y.
Event: 5:30-7pm, BJ's (Club #136, 100 Mill Rd.)
Thursday, May 16: Huntington, N.Y.
Event: 8pm, Book Revue (313 New York Ave.)
Get exclusive recipes from Guy's new book: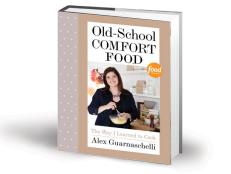 During the months of April and May, Alex Guarnaschelli's schedule will be filled with book signings across the country for her first book, Old-School Comfort Food. Check out her book tour schedule below to see if she'll be in a city near you.