2014 IACP Awards Stir Up Excitement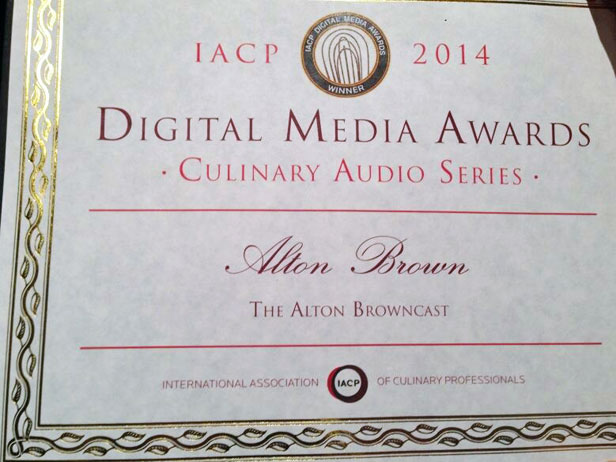 The International Association of Culinary Professionals presented its prestigious annual awards, honoring food literature, journalism and digital media in a variety of categories, at a ceremony in Chicago on Saturday.
The 2014 winners of the IACP cookbook awards, which aim to "promote quality and creativity" in culinary writing, include Matt and Ted Lee's The Lee Bros. Charleston Kitchen (in the American category — get the authors' recipe for Shrimp and Deviled-Egg Salad Rolls), Jacquy Pfeiffer's The Art of French Pastry (in the Baking: Savory or Sweet category), Andrew F. Smith's The Oxford Encyclopedia of Food & Drink in America, Second Edition (Beverage/Reference/Technical) and Los Angeles chef and restaurateur Suzanne Goin's The A.O.C. Cookbook (Chefs and Restaurants). John McReynolds' Stone Edge Farm Cookbook was named Book of the Year; it was also honored in the First Book category.
Food Network's own Al ton Brown won the Culinary Audio Series award for the Alton Browncast (pictured above). Chopped judge Maneet Chauhan was honored along with Katy Sparks, Alex Raij, Rita Sodi and Kathleen Squires in the E-Cookbook category for the online cookbook series The Journey.
Check out a full list of winners after the jump or click here.
IACP Cookbook Award Winners
The Lee Bros. Charleston Kitchen
by Matt Lee & Ted Lee (Clarkson Potter)
by Jacquy Pfeiffer (Random House)
Beverage/Reference/Technical
The Oxford Encyclopedia of Food & Drink in America, Second Edition
by Andrew F. Smith (Oxford University Press)
by Suzanne Goin (Random House)
Children, Youth and Family
CHOP CHOP: The Kids' Guide to Cooking Real Food with Your Family
by Sally Sampson (Simon & Schuster)
The Chelsea Market Cookbook: 100 Recipes from New York's Premier Indoor Food Hall
by Michael Phillips with Rick Rodgers (Stewart, Tabori & Chang)
Cuisine & Empire: Cooking in World History
by Rachel Laudan (University of California Press)
by John Baxter (HarperCollins Publishers)
by John McReynolds (Stone Edge Farm)
Eat, Drink, Vote: An Illustrated Guide to Food Politics
by Marion Nestle (Rodale)
Eating on the Wild Side: The Missing Link to Optimum Health
by Jo Robinson (Hachette Book Group)
by Kathy Brennan & Caroline Campion (Rodale)
Vegetable Literacy: Cooking and Gardening with Twelve Families from the Edible Plant Kingdom
by Deborah Madison (Ten Speed Press)
Sauces & Shapes: Pasta the Italian Way
by Oretta Zanini De Vita & Maureen B. Fant (W.W. Norton & Company, Inc.)
by Anne Willan and Amy Friedman (St. Martin's Press)
I Love New York: Ingredients and Recipes
by Daniel Humm & Will Guidara (Francesco Tonelli, photographer) (Ten Speed Press)
by Francisco Migoya and the Culinary Institute of America (Wiley)
Mast Brothers Chocolate: A Family Cookbook
by Rick Mast and Michael Mast (Hachette Book Group)
by Jancis Robinson, Julia Harding & Jose Vouillamoz (HarperCollins Publishers)
Manresa: An Edible Reflection
by David Kinch & Christine Muhlke (Ten Speed Press)
by Katy Sparks, Alex Raij, Maneet Chauhan, Rita Sodi and Kathleen Squires (Alta Editions)
by John McReynolds (Stone Edge Farm)
by Jancis Robinson, Julia Harding & Jose Vouillamoz (HarperCollins Publishers)
Mr. Wilkinson's Vegetables: A Cookbook to Celebrate the Garden
by Matt Wilkinson (Black Dog & Leventhal Publishers)
by Amy Stewart (Workman Publishing Company)
Lark – Cooking Against the Grain
by John Sundstrom (Community Supported Cookbooks)
The Art of Mexican Cooking
by Diana Kennedy (Clarkson Potter, 1989)
Invitation to Indian Cookery
by Madhur Jaffrey (Knopf, 1973)
Betty Crocker's Cookbook (Originally Betty Crocker's Picture Book)
by Mollie Katzen (Ten Speed, 1977)
The Silver Palate Cookbook
by Julee Rosso and Shelia Lukins (Workman, 1982)
Historical Cookbook Award
IACP Bert Greene Award Winners
Lucky Peach "A Day on Long Island with Alex Lee"
Culinary Writing About Beverages
Instructional Culinary Writing
Saveur "The Star of Siam: Thai Curries"
Culinary Writing That Makes a Difference
EatingWell: Where good taste meets good health "Growing Resistance"
Playboy Magazine "Playboy Food Column"
Narrative Culinary Writing
Star Tribune "From the Wild" (Meals From a Hunter)
IACP Digital Media Award Winners
James Oseland and Helen Rosner
Amanda Hesser, Merrill Stubbs, Kristen Miglore, Brette Warshaw, Kenzi Wilbur, Marian Bull
Photo-Based Culinary Blog
Ilva (ILVA) Beretta & Jamie Schler
Best Culinary Video Series
Single Food Focused Video
Culinary Educator of the Year
Culinary Professional of the Year
Culinary School Award of Excellence
The International Culinary Center