My Little French Kitchen — Off the Shelf
Rachel Khoo's new cookbook, My Little French Kitchen, is a delicious breath of fresh air. A regional culinary tour of France, Khoo's cookbook explores beyond her Parisian stomping grounds to reveal to readers all the hidden gems and treats France's varied terrains and landscapes have to offer the palate.
Rachel Khoo's new cookbook, My Little French Kitchen, is a delicious breath of fresh air. A regional culinary tour of France, Khoo's cookbook explores beyond her Parisian stomping grounds to reveal to readers all the hidden gems and treats France's varied terrains and landscapes have to offer the palate.
The book is a hybrid diary and recipe collecting, and Khoo's bright voice carries you through each region of France in an enchanting, inquisitive way. The first thing you'll notice about the recipes is how uncomplicated they are. Khoo says it's a misconception that French food has to be daunting or complicated to prepare, and her recipes are proof of that.
The tour starts in Brittany, then travels to Bordeaux, Basque, Provence, Lyon and finally ends in Alsace. The food offerings from each are captivating. France's flavors bloom to life in her Red Wine Roast Chicken from Bordeaux, a simple dish that embodies the French food philosophy: Use local, fresh ingredients to make easy, classic dishes. Her travels reveal the surprising infusions you'll find innate to France's borders: Nicois Cannelloni from the French Mediterranean coast, inspired by the region in Provence where France and Italy meet. Or get a taste of the Basque coast with Pork and Clams with Cider and Lima Beans. Though she says it's incredibly difficult to pick a standout region that surprised and delighted her the most, Khoo admits that Basque holds a special place in her heart, saying: "The Basque region with its laid back surfer attitude (Biarritz on the Atlantic coast is a surfers paradise) and influence from its neighbor, Spain, was the region I enjoyed the most. I loved the little pintxos (Basque tapas) bars you could find tucked in the side streets of Biarritz but also the rugged countryside where you could spot pigs (they are famous for Bayonne ham) grazing."
The images in the book deserve mention of their own. They're gorgeous, capturing the delicate, fresh beauty of France. You get a sense of the varied styles of architecture, and the emphasis on local, seasonal ingredients in Khoo's writing echoes in the lovely photos. When asked the best general cooking tip she picked up through her travels to research the book, Khoo said: "Keep it local and seasonal. Ingredients in season will taste the best, and becoming a regular at your local independent grocer or fresh food market is a really enriching experience. I absolutely love the banter you can have at the market or independent store. There are always so many stories and recipes you can discover."
Give her recipe for a Provençal Vegetable Bake a try and savor the flavors of France in your very own kitchen. My Little French Kitchen is available now, and you can order your copy here.
Tian Provençal — Provençal Vegetable Bake
If you have seen the animated film Ratatouille you will know that Rémy, the rat, shows the kitchen porter how to make a ratatouille. Real ratatouille connoisseurs, however, will have immediately recognized that it is actually not a ratatouille at all, but a typical tian. Both ratatouille and tian use the same vegetables; the main difference is in the cooking technique. A "real" ratatouille requires cooking the vegetables individually, before bringing all the elements together at the end; a tian is an artful arrangement of vegetable slices, which is baked like a gratin. It's a simplified, and more often than not better-looking, version of ratatouille.
Tips from Khoo: To get the vegetables to stand up perfectly you need to really pack the vegetables in, as they will shrink slightly while cooking. As tian is a traditional dish from Provence it would work well with a rosé (that being THE wine to drink). But tian is a dish which could easily accompany a traditional Sunday roast beef, or as the French love to call the Brits " rosbif," where a lovely rich red (I do like an Argentinian Malbec, but that's just my personal preference) would be delicious. Or serve the tian with a delicate steamed fillet of sole and a fresh zingy glass of Sauvignon Blanc. I really don't believe that there should be a set wine for a set dish. At the end of day it's all about what you enjoy drinking the most!
Cooking time: 40 to 45 min
Equipment: a 7 1/2-inch round ovenproof dish
4 red onions, finely sliced
4 cloves of garlic, crushed
5 firm tomatoes (plum tomatoes work well)
Preheat the oven to 350 degrees F. In a large saute pan over medium heat, fry the onions, garlic and thyme in 2 tablespoons of the oil for about 10 minutes, until soft and starting to turn golden.
Meanwhile, very finely slice the eggplant and zucchini crosswise (1/16 inch thick). Use a mandoline or the slicer on the side of a box grater if you have one. Slice the tomatoes into 1/8-inch-thick slices.
Pour the onion-thyme mixture into the ovenproof dish and top with a few slices of the vegetables to make a flat surface. Arrange the rest of the sliced vegetables, alternating the colors, in a circular arrangement around the dish. Drizzle with the remaining 2 tablespoons oil and sprinkle with the salt. Bake for 35 to 40 minutes or until the vegetables are soft and golden on top. Serve warm or at room temperature.
Faire en avance (get ahead): This can be made 1 day in advance and eaten at room temperature or reheated in a 325 degree F oven at for 20 to 30 minutes.
Rachel Khoo, My Little French Kitchen: Over 100 Recipes from the Mountains to the Market Squares and Shores of France, Chronicle Books (2014).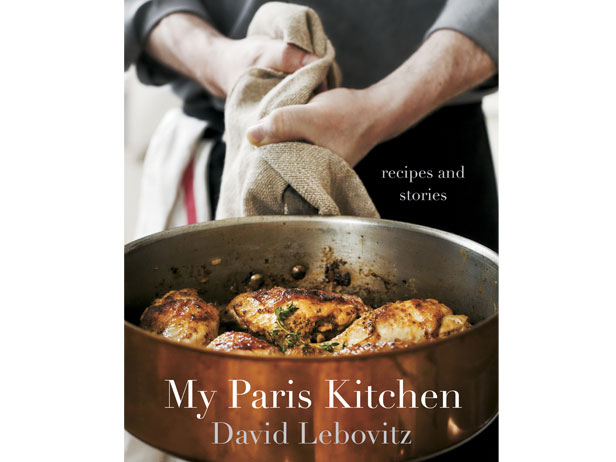 The delightful thing about David Lebovitz's writing is his ability to make even the most-intimidating foreign cuisine seem approachable and familiar. My Paris Kitchen is set by the fact that some recipes are basic and other recipes will gently guide you outside your culinary comfort zone.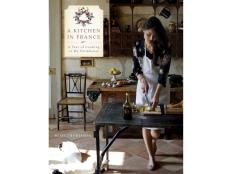 Escape to a farm nestled in the French countryside with Mimi Thorisson's new cookbook, A Kitchen in France.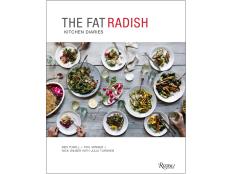 Enjoy English fare with a Yankee twist in this week's featured Off the Shelf pick, The Fat Radish Kitchen Diaries.