Anne Burrell's Chocolate Chunk Cookies Are Taylor Swift-Approved
Get the recipe for Anne's chocolate chip cookies, which Taylor Swift credits with being "a real turning point" in her life.
Much like Mom's meat sauce and Grandma's brownies, chocolate chip cookies are a personal food choice — everyone has a favorite recipe and everyone believes that one to be the best. For Taylor Swift, it seems as though her pick for chocolate chip cookie recipes comes from Food Network's own Anne Burrell.
Anne was quick to reply to Taylor, as she thanked the music star and proposed getting together in the kitchen one day. "We can make them together or anything else you want together anytime!!!!" Anne tweeted. "I'm a HUGE fan of yours!!!!"
Just what's so special about Anne's life-altering cookies? It turns out that they're not your everyday chocolate chippers. Anne calls them her Super-Yummy Chocolate Chunk Oatmeal Cookies, and they're made with rich dark chocolate, rolled oats and a pinch of cinnamon for subtle spice, and they're finished with sea salt before baking. Perhaps best of all, they're a cinch to make, and they can be ready to eat in only 35 minutes. Try them at home using this top-rated and Taylor-approved recipe.
Taylor is no stranger to Food Network stars, having recently joined Ina Garten at her home for a day of cooking and cocktail-making. Check out behind-the-scenes snapshots for an inside look.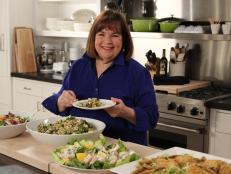 Find out how she uses it to make her favorite cookies of all time.