Is Cafe Mocha to Winter As Pumpkin Spice Is to Autumn?
Are you feeling pumpkin spiced out and wondering what seasonal stunt flavor comes next? Wonder no longer.
Are you feeling unapologetically pumpkin spiced out as autumn begins to give way to winter? Wondering what seasonal stunt flavor comes next? Wonder no longer: It's cafe mocha.
Sure, sure, winter has often been considered the season of peppermint — what with candy canes and all. But this year Mars is apparently augmenting its minty winter holiday candy offerings with Christmassy bags of cafe mocha-flavored M&M's.
The coffee-flavored milk chocolates are coated in red and green candy and are a little rounder than plain M&M's — sort of like peanut butter M&M's. And, no, they won't give you a caffeine jolt.
For those of you who aren't sold on the idea of coffee-flavored M&M's (tea drinkers, maybe?), Mars is also introducing two other limited-edition winter flavors: white peppermint (red and white) and hot chocolate (dark chocolate!). All three new flavors began hitting store shelves Nov. 1.
Yes, winter really is coming. Time to dig out the mittens.
Photo courtesy of Mars Chocolate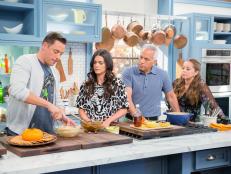 Bring the flavor of a classic PSL to your favorite autumnal dishes and drinks with this easy base recipe.