The New McDonald's Breakfast Sandwich Is No Small Thing
It's called the Triple Breakfast Stack, and it was inspired by hungry menu hackers.
McDonald's new breakfast sandwich makes you wonder if America's pivot toward healthier eating is just a lie we tell ourselves.
The Triple Breakfast Stack – the first new breakfast sandwich McDonald's has added to its menus nationwide since introducing the far healthier sounding Egg White Delight McMuffin in 2013 -- is a lesson in excess, a true porky pig-out: It features not one but two hot sausage patties, a thick slab of Applewood smoked bacon, and then, just for good protein measure, an egg. All that with a double dose – two slices – of melted American cheese (so much for its reported demise), tucked into either a toasted McMuffin, a biscuit or McGriddles pancakes.
So, you know, probably not diet food. But McDonald's says it's just giving the people what they want.
"Our customers have … told us they have been craving a bigger, more filling sandwich option in the mornings," Linda VanGosen, McDonald's vice president of menu innovation, told the press.
The chain got the idea for the stacked sandwich, which will be available at participating locations for a limited time only starting November 1, after noticing that customers were creating their own versions by adapting existing McDonald's menu items, creating what has been dubbed "Secret Menu" items.
"People have been hacking our menu for years -- so much so that it's inspired our new Triple Breakfast Stacks," McDonald's Manager of Culinary Innovation Chef Mike Haracz said in a news release. "We love seeing the fun ways our customers and McDonald's crew have been creating their own takes on our classics. We can't wait to see what they come up with next – you never know what might end up on our menu."
Photo courtesy of McDonald's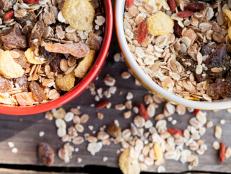 Nutrition experts share breakfast picks, vitamin C offers exercise-like benefits, McDonald's promises only cage-free eggs by 2025.