Kellogg's Launches a Berry Interesting New Krispies Flavor
Strawberry Krispies adds a pink tinge to your morning "snap, crackle and pop" routine.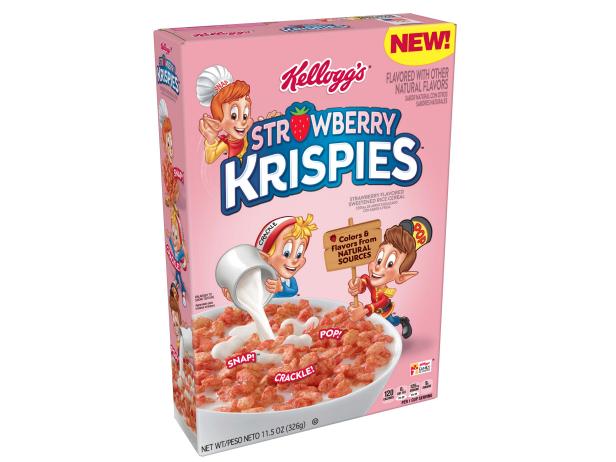 New Innovation - New EquityNutrition/AllergenPDR, New FoodProject Easel 1st Production, Comments: Production NLI for Easel. Zeroed out vit A contribution from beta-carotene as it is for color and not for fortificant purposes. Fortification profile matches CK. Flavor and color claim approved by legal
Think "snap, crackle and pop" is the height of breakfast joy, but up for a new angle on the old Krispies theme? Soon you can start thinking pink.
Kellogg's has announced it will introduce Strawberry Krispies to its Krispies cereal lineup, which already includes Rice Krispies and Cocoa Krispies.
Strawberry Krispies will land on shelves nationwide in January 2019. It's the first new flavor to hit the Rice Krispies lineup in more than 10 years. The last new Rice Krispies flavor, for those keeping track, was Berry Krispies, introduced more than a decade ago.
Kellogg's promises that the new flavor will deliver "on one of fans' top flavor preferences with a simple, naturally-inspired strawberry flavor that perfectly complements the iconic cereal that snaps, crackles and pops."
Those with long memories may recall that the company launched a previous version of Strawberry Krispies in the '80s, but this new version has a completely different recipe, according to a Kellogg's spokesperson. The box boasts that the new cereal -- available in both 11.5-ounce ($3.99) or 16.5-ounce ($5.69) boxes -- includes "colors and flavors from natural sources," which is comforting.
No word on whether the new cereal will turn your milk pink (and sweet). But here's looking forward to Strawberry Rice Krispie treats. Recipe at the ready, y'all.
Photo courtesy of Kellogg's