Tom Hanks and Jennifer Garner Get in on the Girl-Scout-Cookie Action
Celebrities love Thin Mints and Samoas, too.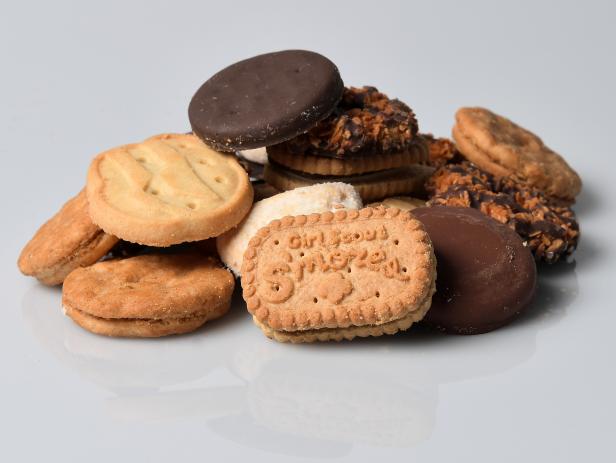 kd-cookies
WASHINGTON, DC - JANUARY 11: The seven Girl Scout cookies available are the newest, Girl Scout S'mores, Samoas, Do-si-dos, Tagalongs, Trefoils, Savannah Smiles and top seller Thin Mints photographed January 11, 2017 in Washington, DC. (Photo by Katherine Frey/The Washington Post via Getty Images)
It's Thin Mints season — not to mention Samoas, Tagalongs, Trefoils and the rest — and celebrities are getting in on the Girl Scout Cookie buying and selling action.
Tom Hanks (apparently a fan of the classics) was recently spotted purchasing one box of Thin Mints and three boxes of Samoas from a Girl Scout troop in Brentwood, California.
And Jennifer Garner was actually peddling Girl Scout Cookies — first with her daughters outside a Los Angeles grocery store, posting an image on Instragram of herself holding a colorful, hand-lettered sign as a startled-looking male shopper points her way. (Or maybe that was just cookie hunger in his eyes?)
The actress captioned the photo: "Why yes, kind sir, we do have Thin Mints."
But it wasn't just that "kind sir" to whom Garner was willing to supply Toffee-tastics, Trios, Savannah Smiles and S'Mores. She also sent out Girl Scout cookies to some of her Instagram followers.
"While my Girl Scout and Brownie have to sell their own cookies, I did buy a limited number of boxes from them to share with you guys," she wrote on Instagram, People reports. "So if you truly have no Girl Scout in your life, please send me your order and your address and I will try to hook you up."
And then, after selling out her stock in just a few minutes time, she documented herself fulfilling the orders, complete with handwritten notes.
Those who received them were clearly quite pleased:
"THANK YOU SO So so very MUCH for THE THIN MINTS!!!!!" elsie_jane_bows wrote to Garner on Instagram.
"@jennifer.garner I got a box of Girl Scout cookies (Samoas) in the mail from you today! Thank you so SO much! You are have such a kind and generous heart! You made this pregnant lady very, VERY happy! ❤ #CookiesKeepUpWarmInCanada," gushed colleen.manson.
Hard to know which was more delicious for these folks: the cookies or the brush with celebrity.