Will the 'Friends' Coffee Shop, Central Perk, Soon Be Real?
Warner Bros. has moved to trademark the Central Perk name and logo for 'coffee shop and café' purposes.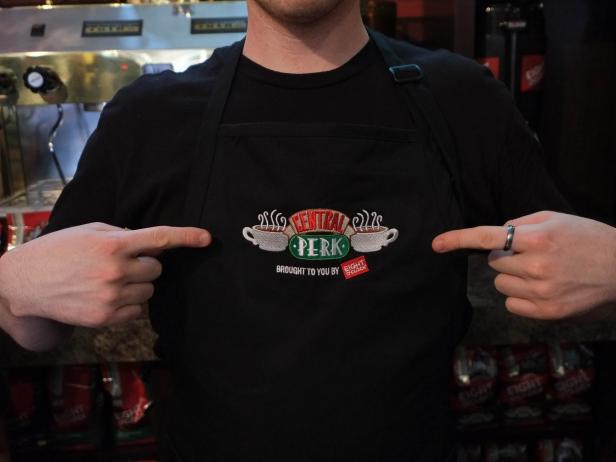 81731596
NEW YORK - SEPTEMBER 17: Fans of Warner Bros. Television's hit comedy "Friends" celebrate the 20th anniversary of the series' premiere at the Central Perk pop-up in lower Manhattan, open today September 17 through October 18, 2014 in New York City. (Photo by Rob Kim/Getty Images for Warner Brothers)
Fans of "Friends" were given false hope a few weeks back when rumors swirled about a reunion movie that would catch us up with the beloved sitcom characters 14 years after the show wrapped. Alas, those rumors, based on a conceptual "teaser trailer" someone posted on YouTube in January that has since been watched nearly 10 million times, turned out to be untrue — the video "fake" and for entertainment only.
But while a "Friends" reunion movie may not be forthcoming, a café based on the coffee shop in TV show, Central Perk, may be.
In early January, Warner Bros. Entertainment trademarked the Central Perk name and logo — described as "a design of a banner above a shaded oval flanked by coffee cups with steam rising above them, with the banner bearing the stylized wording CENTRAL and the shaded oval bearing the stylized wording PERK with a coffee bean design on either side of the wording PERK" — to use for "coffee shop and cafe services; coffee bars; tea bars; snack bars," according to legal documents procured by the celebrity site The Blast.
The "Friends" production company — which currently features a "working, branded replica of the Central Perk Café" on its studio tours of the show's set in Burbank, California, and in 2014 offered the world a limited-time-only Central Perk pop-up shop in New York City to mark the 20th anniversary of the "Friends" premiere — has also filed papers to use the name and logo on products ranging from toys and board games to slot machines, The Blast reports, but those requests are still pending approval.
So you know, it could happen. Your new favorite place to sip a latte with friends who are there for you could be The One With the TV Show Coffee Shop Logo.
Photo: Getty Images, Rob Kim / Stringer