Anderson Cooper: Friend, Foodie or … Both?
Let's examine the Insta evidence.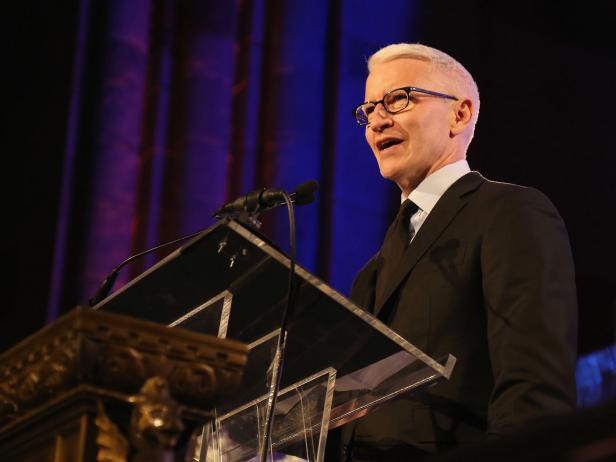 99540149
NEW YORK, NY - MARCH 10: Honoree Anderson Cooper addresses the audience at The 2018 Windward School Benefit at Cipriani 42nd Street on March 10, 2018, in New York. The Windward School specializes in educating students with dyslexia and language-based learning disabilities. (Photo by Al Pereira/Getty Images)
Judging from his Insta, one might hypothesize that Anderson Cooper is a good friend.
The evidence? Well, for starters the CNN anchor and "60 Minutes" contributor fills his story not only with pics of his world travels, but also with photos of pals and puppies, especially his adorably affectionate Welsh Springer Spaniel, Lilly, whom he adopted back in 2016. That saying about a man's best friend obviously goes both ways.
Not terribly apparent from Cooper's Insta, however, is whether the newsman is much of foodie. Until now, that is.
The other day Cooper posted a photo of a frankly gorgeous pizza, its crust appealingly covered with what appears to be a generous dusting of shaved cheese.
"I'm not one to take pictures of food, or rave about meals," he wrote in a caption, "but just ate at a really great, new pizza place in #sanfrancisco called @CheFico. So good, and a fun, casual vibe."
Turns out Che Fico, a just-opened San Francisco Italian Taverna, is co-owned by a Cooper's buddy, Jonathan M. Tucker.
So maybe he really is more friend than foodie after all.
Photo: Al Pereira / Contributor, GettyImages