I Ate Like Celebrity Kids for a Day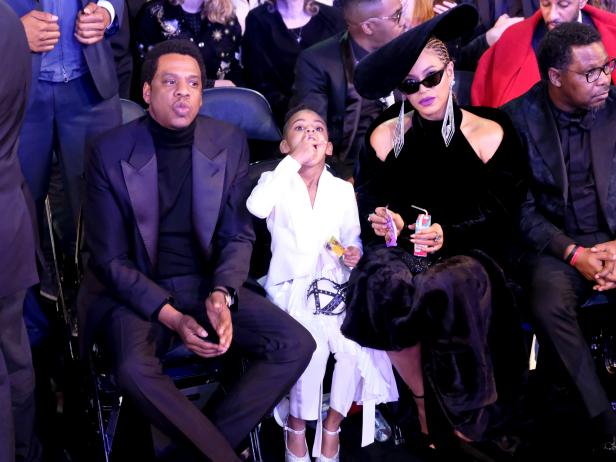 NEW YORK - JANUARY 28: JAY-Z, Blue Ivy Carter, and Beyonce backstage at THE 60TH ANNUAL GRAMMY AWARDS broadcast live on both coasts from New York City's Madison Square Garden on Sunday, Jan. 28, 2018, at a new time, 7:30-11:00 PM, live ET/4:30-8:00 PM, live PT, on the CBS Television Network. (Photo by Timothy Kuratek/CBS via Getty Images)
Celebrity kids — they're just like us. Except, well they actually aren't. Just like their parents, the children of celebrities are living lives at a level just above the rest of us. They're enrolled in prestigious schools, attend the Grammys and call Kanye "dad". But there are some areas in life where we are all seemingly the same. Don't believe me? Their favorite meals are proof alone.
I don't know about you, but when I think about food that celebrities eat, I imagine fancy meals prepared by private chefs, extravagant dinners at the most expensive restaurants and everything being organic. And while there is some (ok, maybe a lot of) truth to that, it turns out celebrities also crave the same simple, delicious stuff that we do. Go figure.
For one day, I followed the foodie lives of five celebrity children, and (TBH) it wasn't that crazy. Sure, my lunch was OTT and my dinner required more preparation than anything I'd willingly make for myself. But all-in-all, celebrity kids proved to be pretty low maintenance and have pretty bomb taste in food.
To start my day, it seemed fitting to pick a celebrity kid who is making big strides in Hollywood on her own. Considering breakfast is the most important meal of the day, I figured following after model Kaia Gerber would surely set me up for success.
While explaining her idealistic weekend to Harper's Bazaar, Gerber expressed her passion for breakfast, claiming, "I always wake up hungry, so I always eat a bagel." That's right, daughter of supermodel Cindy Crawford likes to start her morning with a doughy, New-York-style bagel from Nate'n Al Delicatessen.
Since Nate'n Al is only in California, I decided to hit up my favorite bagel spot down the street, Black Seed Bagels, for an everything bagel with veggie cream cheese. Gerber didn't specify her bagel order in the article, so I decided to just get my go-to.
This is how I start most of my mornings, so I wasn't deviating too far from my normal routine here. The rest of my day, however, looked nothing like Gerber's. See, according to the same article, Gerber and the rest of her star-studded family typically jump on their bikes for a nice ride around Malibu, then (after lunch with her friends) she hits up Little Beach House Malibu, a members-only club right on the water. A normal Saturday afternoon for me looks more like ordering food in and binge-watching Jersey Shore (don't judge).
I ate my bagel on my walk to work and reveled in the feeling of living like a model for approximately 35 minutes.
Morning Snack: Blue Ivy Carter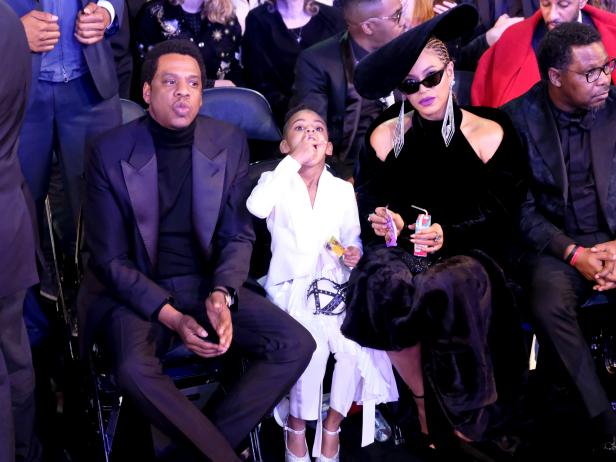 NEW YORK - JANUARY 28: JAY-Z, Blue Ivy Carter, and Beyonce backstage at THE 60TH ANNUAL GRAMMY AWARDS broadcast live on both coasts from New York City's Madison Square Garden on Sunday, Jan. 28, 2018, at a new time, 7:30-11:00 PM, live ET/4:30-8:00 PM, live PT, on the CBS Television Network. (Photo by Timothy Kuratek/CBS via Getty Images)
Look, bagels are delicious and comforting, but they really don't keep you full for very long. So around 11 a.m. my stomach started growling, and I had to grab a snack to tide me over. You know who else finds herself in desperate need of a quick bite from time to time? Yes, it's Blue Ivy, daughter of Bey and Jay.
During the 2018 Grammy Awards, Blue became an icon when she (like most kids her age) enjoyed a pack of fruit snacks and a juice box. This moment proved that even the most glamorous mothers are, well, mothers. And a huge part of motherhood is making sure your kids are taken care of at all times — even if that means in the middle of music's biggest night.
It's been a while since I've had these delicious snacks, and I honestly forgot how satisfying a few of these little gummies can be. Since I'm not a 6-year-old, it took a little more for me to feel full, and before I knew it I had finished two packs. I quickly hid the rest of the box (for fear I would eat all of them) and continued on with my day.
Lunch: Prince George of Cambridge
Thinking about middle school lunch doesn't always bring the best memories for me, tbh. The way my school worked, we had hot lunches provided at school Tuesday-Thursday (which we had to buy tickets for, which I also inevitably always lost) and brought sack lunches on Mondays and Fridays. My sack lunch was typically a peanut butter and jelly sandwich, potato chips and some other random side snacks that I convinced my parents to buy that week. There was always some weird, silent competition about who had the better lunch, and swapping treats was basically a given. Sounds pretty typical, right?
Well, if you're Prince George of Cambridge, nothing is typical. At the over $20,000 a year Thomas's London Day School, Cambridge's lunches will more-closely resemble an expensive dinner that I only eat when my parents are in town. According to the school's website, they put an emphasis on healthy cooking and aim to provide a balanced diet for the kids. At a school of this caliber, that means a seasonal menu including a meat, fish and vegetarian option daily, freshly baked bread and dessert for lunch. For a more detailed look, just check out this sample menu from last September. I mean, authentic Coq au Vin and boulangere potatoes? Are you kidding me?
I went back and forth with whether or not I should replicate one of the meals on the menu and bring it for lunch, but that would still technically be a sack lunch — and Prince George doesn't mess around with sack lunches. Instead, I decided to order out from Fig and Olive, a Mediterranean restaurant right around the corner from my office. This restaurant has a lot of great seasonal (and pretty pricey) options. But hey, when you're eating like royalty, you've got to be ok with dropping $30 for lunch.
When I got to the restaurant, I'll admit I felt a little out of place being alone. I considered eating at the bar, but since I doubt Prince George has a glass of wine with his lunch, I decided to place my order to-go and find somewhere else to enjoy. There were so many incredible options on the menu to choose from (I was especially interested in the seasonal risotto), but since a substantial, protein-packed lunch is what George would eat, I went with the Chicken Paillard. It came with arugula, Brussels sprouts, haricot vert red bell pepper, pickled red onion, almonds and lemon.
Instead of bringing it back to my desk like normal, I decided to take advantage of the beautiful day and eat outside. Luckily, my colleague Maggie was also taking her lunch outside, and the two of us found a table along NYC's Highline to eat. Sitting together somewhere other than the office brought back the feeling of being in my middle school cafeteria eating lunch with my friends. Aww. :,)
After devouring my lunch I decided I was full and ready to head back to the office. That was until I walked by Sarabeth's in Chelsea Market and decided I couldn't pass up a sweet treat.
I grabbed some rice pudding topped with fresh fruit and brought it upstairs. If Prince George can justify dessert after lunch, then SO CAN I!
Afternoon Snack: North West
You'd probably think a $30 lunch followed by dessert would be enough to satiate my appetite for one afternoon. YOU THOUGHT WRONG! I decided mid-afternoon that I needed a snack. (And also, I HAD to find a way to get North West in here, obviously.)
According to her mom, Kim Kardashian's, website and app, she likes to give North, "nutritious versions of fun foods that every kid loves." Which means that, rather than your typical Goldfish crackers, North snacks on Annie's Cheddar Bunnies since they contain more natural ingredients.
This sounded like reason enough for me to grab a box of these for my afternoon pick-me-up.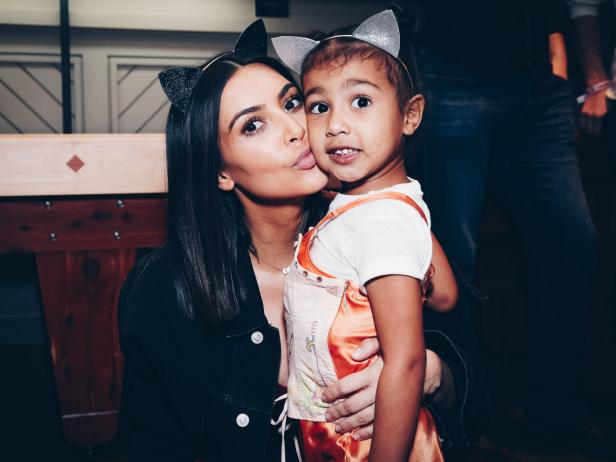 95197481
INGLEWOOD, CA - MARCH 31: In this handout photo provided by Forum Photos, Among the VIP guests of Managing Partner, Shelli Azoff, and Ariana Grande's manager, Scooter Braun, in the exclusive Forum Club enjoying the Ariana Grande Dangerous Woman show at the Forum were Kim Kardashian and daughter, North West on March 31, 2017 in Inglewood, California. (Photo by Rich Fury/Forum Photos via Getty Images)
Say what you want about Kim K, but she knows how to pick a yummy snack.
At the young age of three, Luna already has a lot of people seriously envying her life. I mean, her mom is the queen of sass, Twitter and the kitchen, and her dad is John Legend. Talk about the luck of the draw. While Chrissy Teigen has a lot of great qualities (her wit is incomparable), we think the best part of having her as a mom would be the meals you get to eat.
Two years ago, Teigen graced us with her first cookbook, Cravings, and not too long after announced plans for a Cravings 2. The first edition focused on "the food you really want to eat", but in an interview with Refinery29, Teigen admitted that this round she will include more Thai recipes and — to the excitement of many — that means more from her mom's recipe book.
To finish off my day of celebrity kid eating, I decided to follow in the footsteps of Luna and eat garlic soy ribs. I love ribs, obviously, but the main reason for picking this recipe is because Luna looks super cute in these pictures.
According to Teigen's Instagram post, we can look forward to her mom's recipe for this dish in Cravings 2. Unfortunately, the book is not out yet, so I searched the internet for a replica and honestly ended up kind of winging the whole thing.
Thanks, Chrissy! You're already making me a better chef.
I mixed together brown sugar, soy sauce and some garlic, let my ribs marinate overnight and threw them in the oven the next morning for dinner. I was honestly astonished that they were so easy to make and — not to toot my own horn — pretty dang delicious.
I'm sure the version Teigen has in her book will be a little more detailed, but if this is the starting point, I can't wait to try the real stuff.
See, eating like a celebrity kid really isn't that insane. The most ridiculous part was mimicking Prince George's lunch — and he's royalty, so we can all agree he's a few levels above everyone else, anyway.
Either way, I'm going to continue to eat fruit snacks, bagels, Cheddar Bunnies® and ribs to feel like the celebrity child I was always meant to be.
Photos by Getty Images and Rachel Trujillo