9 Thoughts You Have While Cooking Outside
Learning how to cook is one thing. But cooking outside, in the great outdoors? That's a totally different game. Here are nine things anyone who's ever brought a cast-iron pan to a campfire has thought.
You can never be too sure. Which is why it's so important to pre-clean all your cooking supplies, bring potable water and store perishables correctly before you enter a civilization-less abyss. At the end of the day, the wilderness will never be as clean as a kitchen, so as long as you follow best practices and use common sense, you kind of just have to deal with the fact that the food you're about to eat is only inches away from dirt. (IT'S FINE.)
2. "BUT WHAT ABOUT THE BUGS?"
The sooner you accept insects as forms of protein, the sooner you will be OK with cooking outside. Also, just bring lots of plastic containers and try to keep your food covered as much as possible.
3. Campfire, the Baby You Were Never Expecting
To actually cook on a campfire, you need to keep the fire going strong for a good amount of time. What – did you actually think you could just get a flame going and everything would be fine and dandy? LOL NOPE. This campfire is now your newborn child. You must tend to it always. You must feed it love and oxygen and anything you can find to keep it burning.
4. "Wait, how long do I keep the foil pack in there?"
Out in the wild, foil is king. Foil packets are an easy way to cook a whole mix of things at once while keeping your food dirt- and ash-free. And once you place a nicely seasoned packet of chicken wings in the camp fire, you feel a sense of accomplishment and relief. But then – you don't actually know how long you're supposed to keep it in there?! Too long and your food will turn into mush. Too little and your food will still be raw. These are things that keep us away in our sleeping bags at night.
5. "...I don't have service."
Yeah, so you don't know how long to keep the foil packet over the fire, and what's worse is when you try to Google it, you don't have cell service. Yes, precious baby angel, you are simply going to have to learn how to survive on your own.
6. "This is taking SO LONG."
By the time you've finally got the fire up and running and the ingredients prepped and cooking in the skillet, you realize you could've microwaved and eaten 20 Easy Mac meals by now.
And that's when it hits you: That's why we have civilization...
7. "What else can I grill?!"
Once you've finally got the hang of cooking outdoors, the Iron Chef inside you is wondering what else you can cook over a campfire.
8. "I AM A WILDERNESS EXPERT."
Well, maybe not an expert ... but smarter than you were pre-meal for sure. As long as you got your food cooked to an edible state and it taste halfway decent, you deserve to give yourself a gold star. Self-sufficiency = self-satisfaction.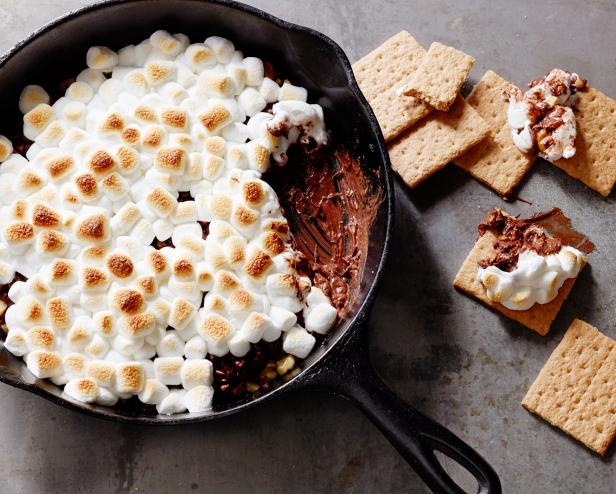 S'MAUROS: SKILLET S'MORESJeff MauroThe Kitchen/Fresh New Food IdeasFood NetworkUnsalted Butter, Walnuts, Mini Chocolate Chips, Mini Marshmallows, Graham Crackers,S'MAUROS: SKILLET S'MORES Jeff Mauro The Kitchen/Fresh New Food Ideas Food Network Unsalted Butter, Walnuts, Mini Chocolate Chips, Mini Marshmallows, Graham Crackers
Matt Armendariz, 2014, Television Food Network, G.P. All Rights Reserved
And the best way to reward yourself (besides a gold star)? S'MORES.