What Happens When Serena Williams Craves Italian Food?
Her husband takes her to Italy. (Yeah, not a bad life.)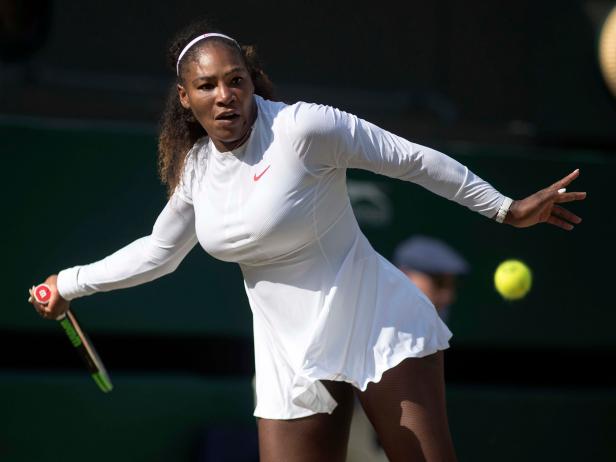 071418_wimbledon_tennis_11791.jpg
LONDON, ENGLAND - JULY 14: Serena Williams of the United States in action against Angelique Kerber of Germany in the Ladies' Singles Final on Center Court during the Wimbledon Lawn Tennis Championships at the All England Lawn Tennis and Croquet Club at Wimbledon on July 14, 2018 in London, England. (Photo by Tim Clayton/Corbis via Getty Images)
Serena Williams has set out to prove that motherhood won't doom her demanding career – and it hasn't spelled the end of romance in her marriage, either. Quite the contrary, it seems.
Williams' husband, Reddit co-founder Alexis Ohanian, posted an image on Instagram of Williams tipping back a glass of wine. In the post -- tagged with the location "Venezia, Italia" – the tennis star is clad in pink and her spouse looks tickled the same color.
"She wanted Italian for dinner, so..." he captioned the image.
Williams had a craving for pasta (or whatever) and her man whisked her away to Italy? Talk about true love.
The couple has been married since November 2017. Their baby, Alexis Olympia, was born in September 2017. (Presumably the little cutie was with them? Williams has said she doesn't want to spend a day apart from her daughter until she turns 18.)
Ohanian posted another photo from Venice showing what appears to be his wife walking down a moodily lit Italian street, captioning it, "Last night was a blur."
Williams, meanwhile, posted a very cool video of herself in a luxury hotel room that was presumably taken with a drone. (It's worth watching repeatedly.)
"Loving family time in beautiful Italy. What an insane room I stayed in. I got to look at stars from my bed at night!! This week has been a dream!" she wrote.
Photo: Tim Clayton - Corbis / Contributor, GettyImages