Princess Charlotte Is 'Pretty Good' With Spicy Foods
Add hot curries to the list of foods the 4-year-old royal enjoys.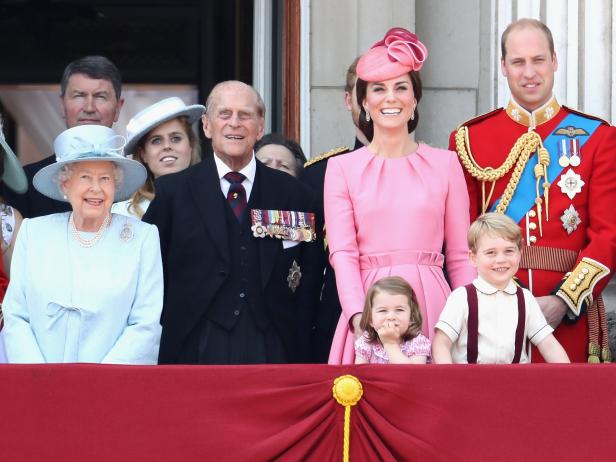 96302735
LONDON, ENGLAND - JUNE 17: (L-R) Catherine, Duchess of Cambridge, Princess Charlotte of Cambridge, Prince George of Cambridge and Prince William, Duke of Cambridge look out from the balcony of Buckingham Palace during the Trooping the Colour parade on June 17, 2017 in London, England. (Photo by Chris Jackson/Getty Images)
And in our next installment in the ongoing saga of "What the British Royals Eat," we learn that Princess Charlotte – the 4-year-old daughter of Prince William, Duke of Cambridge, and Catherine, Duchess of Cambridge -- is partial to spicy foods.
"William and Kate said they were looking forward to the food in Pakistan when they visit on October 14," tweeted Rebecca English, the royal correspondent of the Daily Mail in London. "Kate said she cooked curry at home, creating one version for their three children" – that would be Charlotte and her two brothers – "and another for the adults. But she added: 'Charlotte is pretty good with heat.'"
English punctuated her post with a single hot pepper emoji.
Despite her tender age, little Charlotte's reported endorsement of hot curry dishes didn't seem to shock the Twittersphere much, if at all. After all, we already know she's been a fan of olives since she was a toddler, and that she loves cheesy pasta and pizza as well. So she's got an adventurous palate -- definitely not one of those kids who'll eat only chicken tenders, Cheerios and Goldfish crackers.
"I'm not even a little surprised that Princess Charlotte likes spicy! She seems like she can handle the heat," wrote one commenter to English's original post.
"Good on you Princess Charlotte! Enjoy spicy food sweetie!" another encouraged.
A third weighed in that Charlotte was "a girl after my own heart."
The adorable preschooler apparently doesn't take after her father in her tolerance for spice. As another commenter pointed out, Kate told BBC Radio One, back in 2017, that when she ate spicy cuisine, she tended to eat it alone. Prince William prefers his food a bit less piquant.
Some like it hot... but not all.
Those gorgeous photos of perfectly presented dishes we can't get enough of may prompt us to eat more, researchers say. But don't worry; there's good news, too.