8 Amazing Things About Live Classes on the Food Network Kitchen App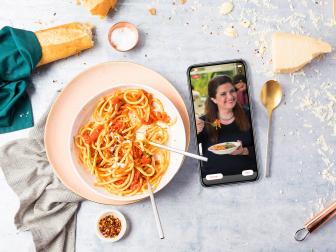 Download Food Network Kitchen now to sign up and take advantage of the latest offer and get 40+ live classes a week, hundreds of on-demand cooking classes, in-app grocery ordering and so much more.
When it comes to making dinner on the regular, I'd rate myself a solid six out of 10. Coming home after a long day at the office, cooking is usually the last thing I want to do. Since the launch of the Food Network Kitchen app, I decided to put more effort into my weeknight dinner routine. Instead of my usual cereal-for-dinner act, I decided to upgrade to making dinner three nights a week. How? Live cooking classes.
The Food Network Kitchen app's live cooking class feature will totally change the way you cook. From scheduling cooking time to fielding on-the-fly questions as you go, these classes are the perfect way to get dinner on the table less time than it takes you to finish that spin class. Seriously, weeknight dinner has never been easier. Here's why you should sign up for a class, stat!
The Q&A Feature Is Genius
This was one of the first tools I used when I started scheduling and watching classes live on the app. With this feature, you'll have the ability to ask your favorite Food Network chefs the questions that you'd be asking yourself, without feeling totally bamboozled by the recipe.
Since you're cooking with the chefs in real-time you get to see for yourself that sometimes, mistakes happen! As you watch the live classes, you'll see the little mishaps and real-time adjustments you might also make in your home kitchen.
Wish you could take a live class, again? You can! After a live class finishes, you'll be able to find it as an on-demand class within 24 hours. And if you need a minute, once the class is on-demand, you'll have the ability to pause, practice and jump right back into the video!
There's Something for Everyone
Are you craving Thai food? Burgers? Or looking to make something simple and on a budget? The Food Network Kitchen app has 40+ live classes every week, so we're positive you'll find a class for whatever you're craving.
You Can Order Groceries Before Class
As you plan our your classes for the week, you can sync your app with your grocery delivery account to have all the ingredients you'll need for dinner that week delivered right to your door before class even starts.
Dinner Can Be Ready in Just About 30 Minutes
Often, live classes can help you make a weeknight dinner in just about 30 minutes, which is even less time than that barre class you take on Tuesdays. That means that from start to finish, you'll have a delicious meal that won't take the entire evening to make!
Make cooking a part of your after-work routine, just like a workout class. When you sign up for a live cooking class, you'll be able to add it to your calendar and set reminders, so you'll never have to settle for a 6pm bowl of cereal again.
There's a 3-Month FREE Trial Period
This is big! Right now you can download the app and sign up for a 3-month free trial. Yes, FREE trial for three months. You'll have 90 days to explore the app, watch the classes, learn new kitchen skills and cook alongside your favorite Food Network chefs.