Now We Know What the Kardashians Do with Their Party Leftovers
They're not going to waste...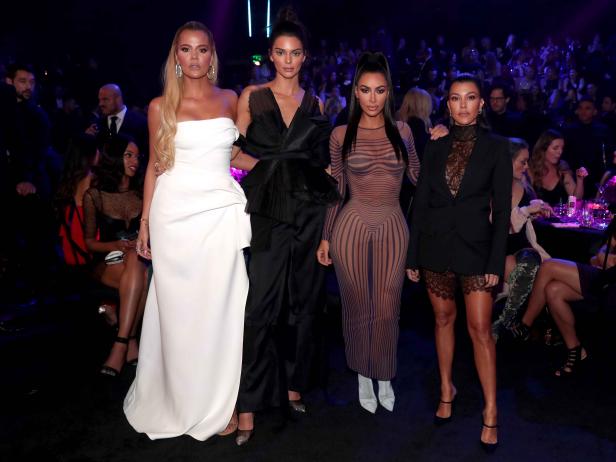 1060526790
SANTA MONICA, CA - NOVEMBER 11: 2018 E! PEOPLE'S CHOICE AWARDS -- Pictured: (l-r) TV personalities Khloe Kardashian, Kendall Jenner, Kim Kardashian West, and Kourtney Kardashian pose during the 2018 E! People's Choice Awards held at the Barker Hangar on November 11, 2018 -- NUP_185072 -- (Photo by Christopher Polk/E! Entertainment/NBCU Photo Bank/NBCUniversal via Getty Images)
Christopher Polk/E! Entertainment
Ask a Kardashian (or three) a good question and you just might get a good answer.
A fan wanted to know what became of the heaps of amazing (and amazingly pricey) stuff that must be left over after all the mega Kardashian birthday bashes that they are forever posting pictures and videos of on social media. So many themes (see here, here and here for a glimpse of Candyland, Dinosaurs, Unicorns and more) … so many decorations … so much food.
For sure, the Kardashian-Jenner clan is not known for its restraint. But is all that over-the-top party stuff just trashed afterward? At least one person on Twitter was rightly concerned.
"Serious question... what do y'all do with all the props, decor, and leftover food after birthday parties!!?" the fan earnestly inquired. "I just watched khloe's from last weekend, North/P's the week before and Saint's last night. It's SO MUCH, I'm so curious! @khloekardashian @KimKardashian @kourtneykardash."
Khloé, bless her heart, responded, and the answer, if true, is heartening: "The decor is normally rented but anything personal (like the quote signs) I have in storage for another function one day. The food left overs always get donated to a food bank or church. Sometimes the food may go elsewhere Depending on the situation."
Not all the commenters responding to Khloé's revelation were satisfied (or unskeptical), but the fan who originally posed the question was clearly thrilled.
"FIRST OFF... YOU REPLIED … Thank you for answering!!! Y'all's parties are awesome!" she wrote.
Hey, sometimes a Kardashian will pleasantly surprise you.