Burger King Is Offering Monthly Coffee Subscriptions
They're only $5, which means you may never make coffee at home again.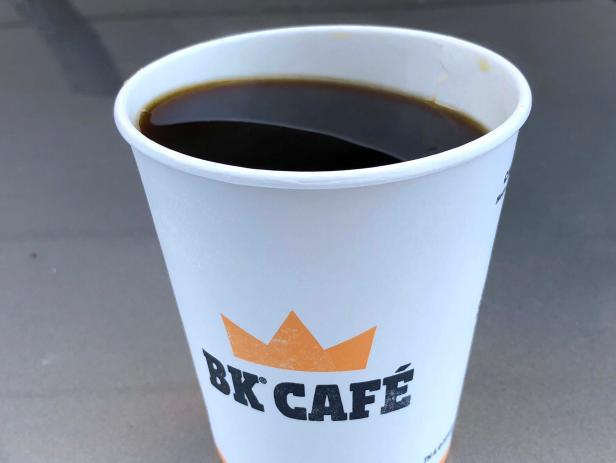 img_6456_2019031814018236.jpg
SAN FRANCISCO, CALIFORNIA - MARCH 18: In this photo illustration, a cup of Burger King BK Cafe coffee is displayed at a Burger King restaurant on March 18, 2019 in San Francisco, California. Burger King has announced that it plans to offer a BK Café coffee subscription program that will cost $5 a month for a daily cup of coffee. The program will be available in the United States with the exception of Hawaii and Alaska. (Photo by Justin Sullivan/Getty Images)
The conventional wisdom has it that making your morning cup of coffee at home every day, rather than buying it elsewhere, will save you bundles. And in a world where pricey (yet delicious) bespoke lattes, cappuccinos and macchiatos entice us on every corner, the conventional wisdom has long held solidly true.
Now, though, Burger King is making a play to change your home-brew-versus-store-bought coffee calculations and lure you out of the house for your daily caffeine fix.
In what it is touting as "a coffee deal that can't be beat," the fast-food chain is offering a monthly coffee subscription -- in which you can get one cup of hot coffee every single day for a month, at any time of day, at participating restaurants – if you sign up using the BK app. The cost for an entire month of coffee, made with 100% Arabica beans and freshly brewed by someone other than you? A mere $5.
"We are proud to launch our own subscription service where guests can now enjoy a hot cup of coffee every day for just $5 a month," Chris Finazzo, the president, North America, of the Burger King Corporation, said in a statement.
Such a deal, but you can get it only if you download the BK app and open the offers tab to sign up. Then, you open the app each day to redeem your small cup of brewed coffee.
Also, even though BK offers specialty drinks, frappes and iced coffees, the BK Café Coffee subscription has nothing to do with them – it's good only for one daily of small cup of hot brewed coffee. And no, you can't carry an unredeemed coffee over from day to day to stockpile. It's one per day only. But for $5 per month, who's complaining?