It's Time to Spring Clean Your Pantry
A clean pantry makes for a happy stomach.
Spring is finally here and while we couldn't be more excited to put our heavy coats and snow shovels back into storage, the one thing we're really looking forward to is spring cleaning! As we de-hibernate from the long winter season, many of us will be grabbing our work gloves and dusters to tackle the dust bunnies that have been roaming around in our home. Why not take this opportunity to clean out your pantry and restock with new and fresh foods, too?
If you're anything like me, an organization project like this is what you live for. From developing a system that will make your life easier (and the relief of throwing out something that was just taking up space) to spending countless hours researching organization techniques and products (I'm always on the hunt for storage bins), spring cleaning your pantry is not only beneficial for your kitchen, it's fun too! Here are some helpful tips to guide you through the process.
Start by Taking Everything Out
Someone once told me that in order to clean a mess, you have to make a bigger mess. Clear off your countertop and take everything out of your pantry. This will allow you to have all your items on full display, giving you a better indication of what is good and what is not. This step is also important because this is when you will deep clean your pantry. Make sure you scrub your shelves and sweep up any old crumbs that may be hiding in the corners. You don't want your yummy new ingredients to be hanging out with old germs.
Now that you have all your pantry items laid out in front of you, it's time to sort! Start with bigger items, such as boxes and cans. Because they take up the most space, getting rid of these first can give you a better sense of how much shelf space you actually have. If you find that you have a box of crackers with only three left or a cereal box with only one serving in it, get rid of the box (they might make a good snack as you clean, too). Make sure to check the expiration dates on items with a longer shelf life and toss out any of your old dried spices to make room for new ones.
Find Products That Will Help
Did you know that you can maximize space in your pantry with storage containers? No more bulky cereal boxes or spilled bags of rice. Storage containers not only help create more space in your pantry, but they also keep your food sealed and fresh for much longer. Loose items such as gravy packets, granola bars or small jars can be stored together in a bin for easy finding and shelf dividers can help you group your items and maximize shelf space. One last thing: labels. Labeling your bins can help you find your items fast. If you don't have a label maker, some scotch tape and permanent marker work just as well! Need a few recommendations? Here are a few products that can help you organize.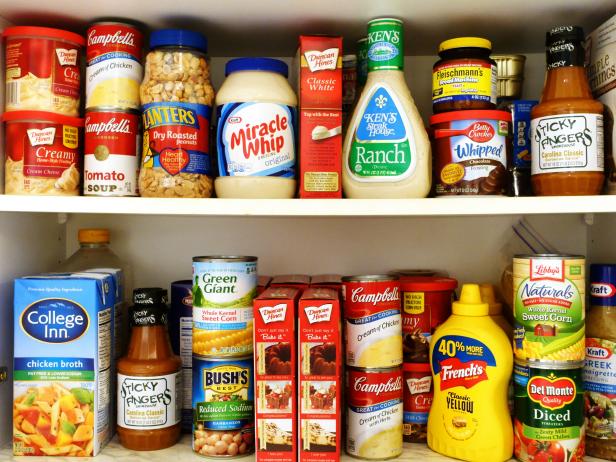 493239254
West Palm Beach, USA - October 9, 2015: Image of two kitchen pantry shelves filled with groceries. Included among the groceries are canned soups, tomatoes, beans and corn, salad dressings, barbecue sauce, peanuts, mustard, cake mixes, chicken broth, and a variety of other cooking and baking ingredients. Many popular brand names are represented, such as Campbells, Green Giant, Del Monte, Bush's, Miracle Whip, Betty Crocker, Libbys, Duncan Hines and Kraft
Organize, Organize, Organize
You've scrubbed your shelves, thrown out old foods and bought some fresh new pantry staples. Now comes the fun part: developing a system that works for you (it's the key to keeping your pantry clean as long as possible). You can organize spices and foods by usage, bringing the ones you use most to the front for easy access. If you have kiddos, you can put their snacks on the bottom shelf where they can reach. One thing I like to do is write down which items I need to replace as soon as I run out. Once I finish something, I add it to the list on my refrigerator and then take it with me on the next trip to the grocery store! It's a great way to keep track of your groceries to avoid over- or understocking.