NASA Astronauts Just Threw Themselves a Spacetastic Pizza Party
How do you cope with a tough workweek in space? The same way you cope with it on Earth.
Honestly, there's not much better than a pizza party in the midst of a stressful workweek – except maybe a pizza party in the midst of a stressful workweek in space. (Spacewalks aren't cakewalks, people.)
NASA astronauts Anne McClain, Christina Koch and Nick Hague definitely seemed to be having a great time last Friday night when they threw themselves a make-your-own pizza dinner aboard the International Space Station, judging from photos and postings on social media and Space.com.
"A long week of hard work and spacewalk prep calls for a pizza party," Hague tweeted, alongside photos in which he and his colleagues appeared cheerfully baking their pizza sideways in vertical slots, displaying personal pies with a variety of toppings, and in one shot, balancing a pizza on a finger. (Oh, the joys of microgravity.)
"Making pizza in space is similar to making pizza on Earth, the only difference is our ovens look a little different and our pizza can float!" Hague explained, before asking, "Anyone on Earth having pizza tonight?"
And by the way, it's not the first International Space Station pizza party. Here's a video of a super-fun looking one from December 2017. My chief takeaway: In space, pizzas make great Frisbees, too. (Bonus fun.)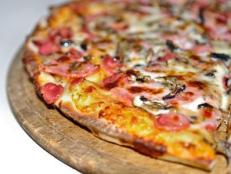 Pizza is many folks' an on-the-go lunch or dinner choice and a staple at kids' birthday parties. I'm not one to resist a tempting slice (it's my favorite food, second to chocolate), but I can enjoy one without overindulging -- here's how.