This Is What Guests at the Taco Bell Hotel Will Dine On
The Bell will serve a mix of iconic Taco Bell menu items, test menu items and classic poolside resort foods with a Taco Bell twist.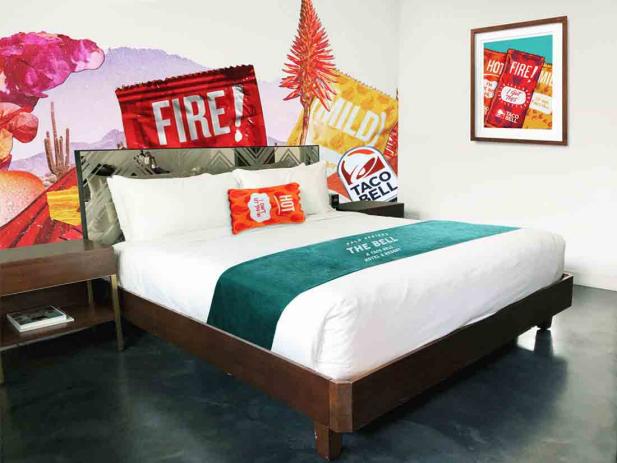 The-Bell-Guest-Room-King-Sauce
Space is limited at The Bell: A Taco Bell Hotel and Resort and rooms will be available to Taco Bell super-fans on a first come, first serve basis. Every element of the property will bring to life the Taco Bell brand and lifestyle -- from guest rooms, the pool and outdoor bar, to a twist on the standard hotel amenities (Taco Bell breakfast in bed anyone?)
Perhaps you were already feeling jealous of the lucky (and quick-fingered) people who managed to snag a reservation at The Bell: A Taco Bell Hotel and Resort. The Mexican-fast-food-chain-themed pop-up hotel, which will exist in Palm Springs, California, only for four nights in August (8/8-12), sold out, when it became available last month, in two minutes flat. Two minutes.
Yet while the taco fans who snapped up the 70 rooms knew they'd be having a total taco experience – including lounging around in Taco Bell-branded bathrobes and paddling around the pool on hot-sauce packet pool floats – they didn't know what the menu would be.
Obviously the food will be a key part the Bell experience, and Taco Bell has just announced that it will offer guests a chance to enjoy not only Taco Bell menu items they know and love, but also not-yet-released, test-phase menu items, and a Taco Bell twist on a typical resort poolside menu – with a possibly unexpected emphasis on local ingredients.
Among the offerings: An "Avocado Toast-ada," featuring avocado, sliced radishes, chipotle-seasoned sorghum and crumbled "diablo puffs" (whatever those are), on a slice of locally made multigrain toast. A Toasted Cheddar Club includes breaded chicken, jalapeno bacon, avocado, sharp cheddar, lettuce, tomato and aioli, and is served with Taco Bell's Nacho Fries, but offers a cheddar chalupa shell where the bread usually is.
In another interesting ingredient switcheroo, the Bell's chilaquiles will use Taco Bell's spicy fire tortilla chips where a typical version of the Mexican egg dish would use stale tortillas, Taco Bell's executive chef, Rene Pisciotti, who has masterminded the menus for Taco Bell innovations like Friendsgiving, told People.
To cool off in the August heat, guests can head to the Bell's "Freeze Lounge" to indulge in a Baja Blast Birthday Freeze, a cool-green frozen slushie created to mark the 15th anniversary of the chain's popular Mountain Dew Baja Blast.
"From welcome beverages to room service build-your-own breakfast tacos and surprises throughout, many of which feature local ingredients like our Horchata-Date Smoothie, we're curating the ultimate Taco Bell food experience," Pisciotti said in a statement.
Those of us who won't be lucky enough to be snacking poolside at the Bell can still get a little taste of the excitement in our very own homes. Taco Bell has seen fit to share a recipe for its Fire Chip Chilaquiles you can DIY. (Find it here.)
Photo courtesy of Taco Bell