Taco Bell Is Changing Up Its Menu
That's bad news for, among others, Cool Ranch & Fiery Doritos Locos Tacos fans.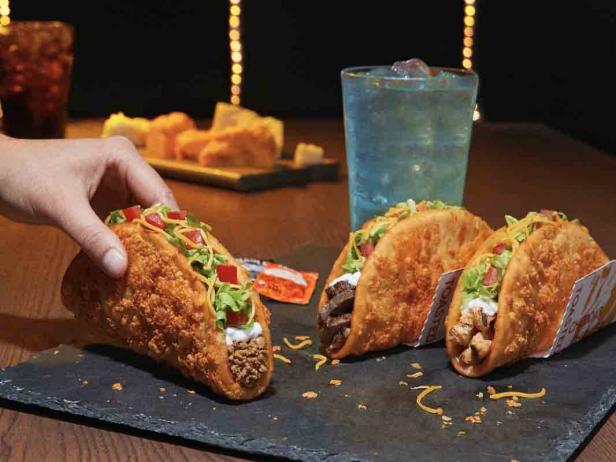 Toasted-Cheddar-Chalupa-Trio--Hero
The beloved Taco Bell® chalupa that fans know and love is getting a next-level cheesy glow up. Introducing the Toasted Cheddar Chalupa -- confirmed for nationwide release September 12. The Toasted Cheddar Chalupa presents brilliantly simplistic shell innovation by baking real, aged cheddar cheese onto the shell.
Taco Bell fans, let's all chant together: Change is good. Change is good. Change is good …
But … um … change can also be hard, and it's bound to be that way for people whose go-to Taco Bell order has been one of the following menu items:
- Chipotle Chicken Loaded Griller
- Cool Ranch & Fiery Doritos Locos Tacos
- XXL Grilled Stuft Burrito
That's because (cue dirge now) those nine menu items, surely beloved by some, are going away – jettisoned by the company in a menu revamp that kicks in on September 12.
"Have you ever had that moment (or several moments, no judgment) where you just want to chop all your hair off, buy new clothes and get a fresh, new start? Well, we kind of did a thing…" the company announced in a blog post on its website this week.
It went on to compare its menu moves to "decluttering a closet" – and apparently those items no longer spark joy for Taco Bell, which has also revamped and reorganized its lineup of combos.
"For example, for those of you who only order the 3 Crunchy Taco Supreme Combo #3, your new favorite number is #1," the company advises. (I guess, to continue the Marie Kondo analogy, that would be like refolding all the T-shirts in your drawer, standing them upright and organizing them by color.)
But even as Taco Bell has purged its metaphorical closet, just like many well-meaning declutterer-and-reclutterers before it, it has splurged on something new: the new Toasted Cheddar Chalupa, a cheddar-cheesy twist on the classic Chalupa, which it previewed at the Taco Bell (Pop-Up) Hotel in August.
"Taco Bell has taken six-month aged sharp cheddar cheese and toasted it onto the iconic chalupa shell to create a crispy blanket of flavor and texture, unlocking a whole new cheese experience," the company announced in a press release.
The Toasted Cheddar Chalupa can basically be ordered in place of the classic chalupa in all the usual Taco Bell ways starting September 12, and Taco Bell is also testing (for a limited time) its new Bacon Club Toasted Cheddar Chalupa – a Taco Bell twist on your classic club that will be available for a limited time for $3.29 – in its locations in Charlotte, North Carolina. I previewed the new sandwich, which layers the Toasted Cheddar Chalupa with grilled chicken, avocado ranch sauce, lettuce, tomatoes, cheddar cheese, and bits of bacon, during my stay at the hotel, and it looked like a keeper to me, so maybe the rest of the world will soon be able to try it.
Cheesy club sandwiches aside, Taco Bell is predicting big things for the Toasted Cheddar Chalupa.
"We know cheese makes everything better," Liz Matthews, Taco Bell's chief food innovation officer, told the press, "and baking aged cheddar into the shell of an already iconic product is a game changer our fans will love."
Whether they'll love it mas than Cool Ranch & Fiery Doritos Locos Tacos only time will tell.
Oh, and another potential consolation prize for those mourning the departing menu items: Taco Bell Reaper Ranch Tortilla Chips have been spotted in stores. Hope that helps.
Photo courtesy of Taco Bell