Will LeBron James' 'Taco Tuesday' Trademark Move Save Taco Tuesday?
It has been suggested that the NBA star may be the great Taco Tuesday liberator the world needs.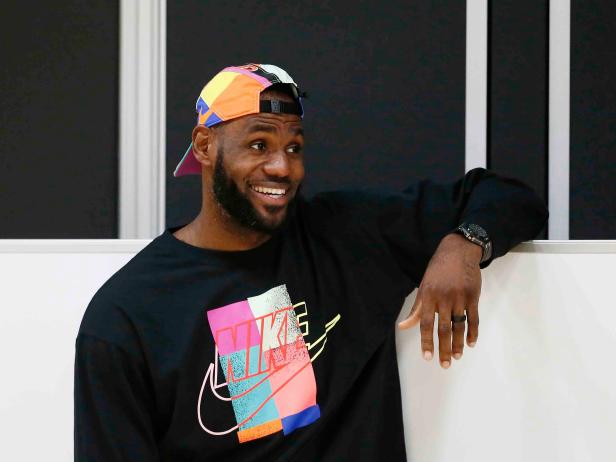 1145337650
EL SEGUNDO, CA - MAY 20: LeBron James #23 of the Los Angeles Lakers smiles and looks on during a press conference to introduce Frank Vogel as the new head coach on May 20, 2019 at the UCLA Health Training Center in El Segundo, California. NOTE TO USER: User expressly acknowledges and agrees that, by downloading and/or using this photograph, User is consenting to the terms and conditions of Getty Images License Agreement. Mandatory Copyright Notice: Copyright 2019 NBAE (Photo by Chris Elise/NBAE via Getty Images)
You may think that Taco Tuesday, like the taco itself, is a thing we all share (and love). But LeBron James would like to make Taco Tuesdays his own thing. Like, legally.
The NBA star's company LBJ Trademarks has filed papers with the United States Patent and Trademark Office to trademark the phrase "Taco Tuesday," which he apparently utters with remarkable regularity (I'd guess … weekly?) on social media. (Here is but one example.)
LBJ Trademarks, a LLC (Limited Liability Company) with a listed address in Akron, Ohio, filed for a "trademark" and "service mark" on August 15, 2019, seeking use of the phrase "Taco Tuesday" for "downloadable audio/visual works," "podcasting services," and "online entertainment services, namely, providing a website featuring non-downloadable videos, and social media posts in the field of sports, entertainment, current events and popular culture," according to data posted on the USPTO website.
The James-owned entity has also requested the right to use the phrase Taco Tuesday in "advertising and marketing services provided by means of indirect methods of marketing communications, namely, social media, search engine marketing, inquiry marketing, internet marketing, mobile marketing, blogging and other forms of passive, sharable or viral communications channels."
That seems like a move to lock up the phrase by someone with big plans, but ESPN reports, citing a source, that James actually has no specific plans as to his use of the phrase.
And a spokesman for James has said the L.A. Lakers forward has no intention, at this point, of locking up the phrase, which is to say keeping other people from using it, either.
"The filing was to protect the company from potential lawsuits should we decide to pursue any ideas, nothing of which is in development," the spokesman told the New York Times. "It has nothing to do with stopping others from using the term."
In fact, Los Angeles Times features writer Gustavo Arellano, author of the book Taco USA: How Mexican Food Conquered America, suggests that James may actually be trying "to liberate 'Taco Tuesday' from the shackles" that have held it captive for three decades.
Counterintuitive, perhaps, but Arellano explains that another entity, a Wyoming-based Mexican fast-food chain called Taco John's, currently holds the trademark for the phrase Taco Tuesday for use in restaurants everywhere in the U.S. except in New Jersey, where the trademark is held by another restaurant.
Taco John's, Arellano notes, has used its trademark to bully anyone else who dares to use the phrase, demanding theycease and desist from doing so, even though the phrase predates Taco John's trademark (Arellano traces its origins back at least as far as 1933) and is now widely and commonly in use. Arellano's stated hope is that James' move to trademark Taco Tuesday may actually prompt the USPTO to declare the phrase "un-trademarkable," allowing everyone else to finally be able to use it freely and without fear or threat of litigation.
Meanwhile, trademark attorney David Leichtman told Yahoo Finance that, even if James was able to trademark the phrase Taco Tuesday for his specified uses,
which are "slightly different" from those to which Taco John's has laid claim, others may rush to trademark it for other uses, rendering the protection very limited and probably not enough to keep other people from using it, even if he wanted to.
However, Leichtman said, "if Taco John's were to sue" James after he secured a trademark, "they probably wouldn't be successful."
The best defense is a good offense and all that.